Michelle Wolf Claps Back At Mika Brzezinski For Claiming She 'Humiliated' Sarah Sanders' Looks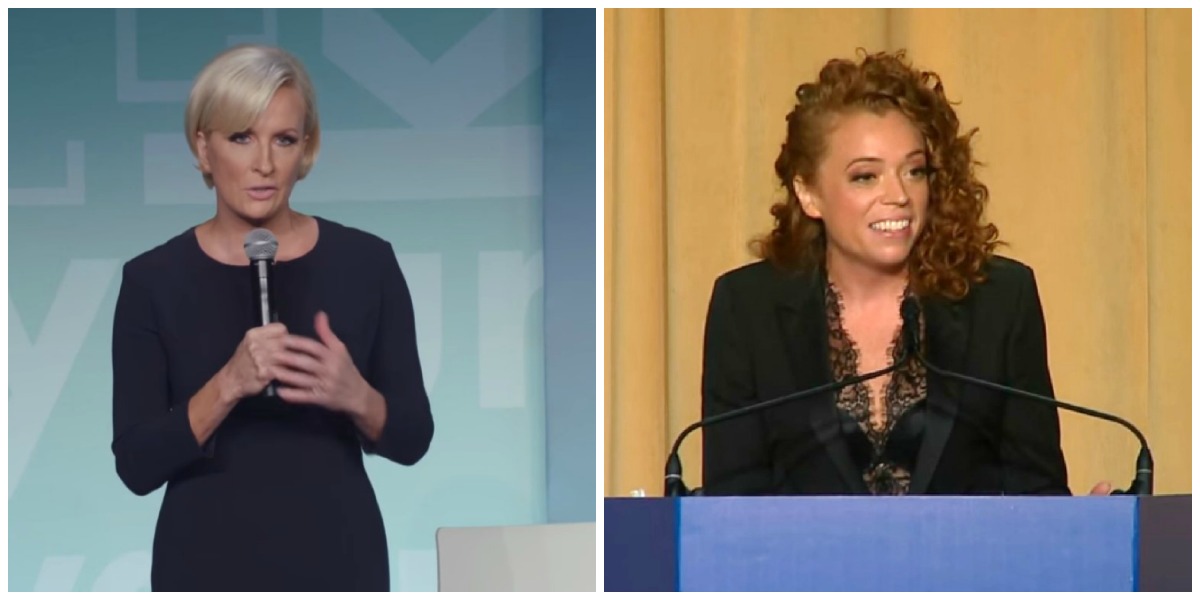 Following Michelle Wolf's roasting of White House officials — and the press that covers this administration — on Saturday night, a number of reporters and media figures took to Twitter to do some pearl-clutching and lecturing about how this was all VERY BAD for journalism. Many took specific issue with Wolf's pointed jokes about White House Press Secretary Sarah Huckabee Sanders.
And, apparently, some believed that Wolf was making fun of Sanders' appearance. By Sunday morning, Morning Joe co-host Mika Brzezinski sent out a series of tweets claiming that the WHCA owed Sanders an apology for the "attacks" she suffered.
Watching a wife and mother be humiliated on national television for her looks is deplorable. I have experienced insults about my appearance from the president. All women have a duty to unite when these attacks happen and the WHCA owes Sarah an apology.

— Mika Brzezinski (@morningmika) April 29, 2018
The WHCD should be about honoring the best in journalism. Enough with the comedians, enough with the late-night parties. These are serious times for both the free press and the public they serve.

— Mika Brzezinski (@morningmika) April 29, 2018
Women who use their government positions to spread lies and misinformation deserve to face the same withering criticism as men. But leave our looks out of it. Watching from home, I hurt for Sarah, her husband and her children.

— Mika Brzezinski (@morningmika) April 29, 2018
Well, Wolf clapped back a little bit later, asking why Mika and others were making this about Sarah's looks when Wolf only joked about Sanders using burnt facts to make a "perfect smoky eye."
Why are you guys making this about Sarah's looks? I said she burns facts and uses the ash to create a *perfect* smoky eye. I complimented her eye makeup and her ingenuity of materials. https://t.co/slII9TYdYx

— Michelle Wolf (@michelleisawolf) April 29, 2018
Mika's tweets seemed to parrot what the New York Times' Maggie Haberman had to say about Wolf's cracks.
That @PressSec sat and absorbed intense criticism of her physical appearance, her job performance, and so forth, instead of walking out, on national television, was impressive.

— Maggie Haberman (@maggieNYT) April 29, 2018
Wolf also responded to Haberman, turning Haberman's criticism around on her.
Hey mags! All these jokes were about her despicable behavior. Sounds like you have some thoughts about her looks though? 😘 https://t.co/JRzzvhBuey

— Michelle Wolf (@michelleisawolf) April 29, 2018
Considering how Sanders and her boss dismissively treat the press as a whole, it is interesting to see a couple of high-profile media figures who have absorbed tons of intense criticism from this administration go to bat for a White House official over a perceived attack that didn't even happen.