Now That Joy Reid Apologized For Homophobic Posts She Doesn't Remember Writing, Should We Move On?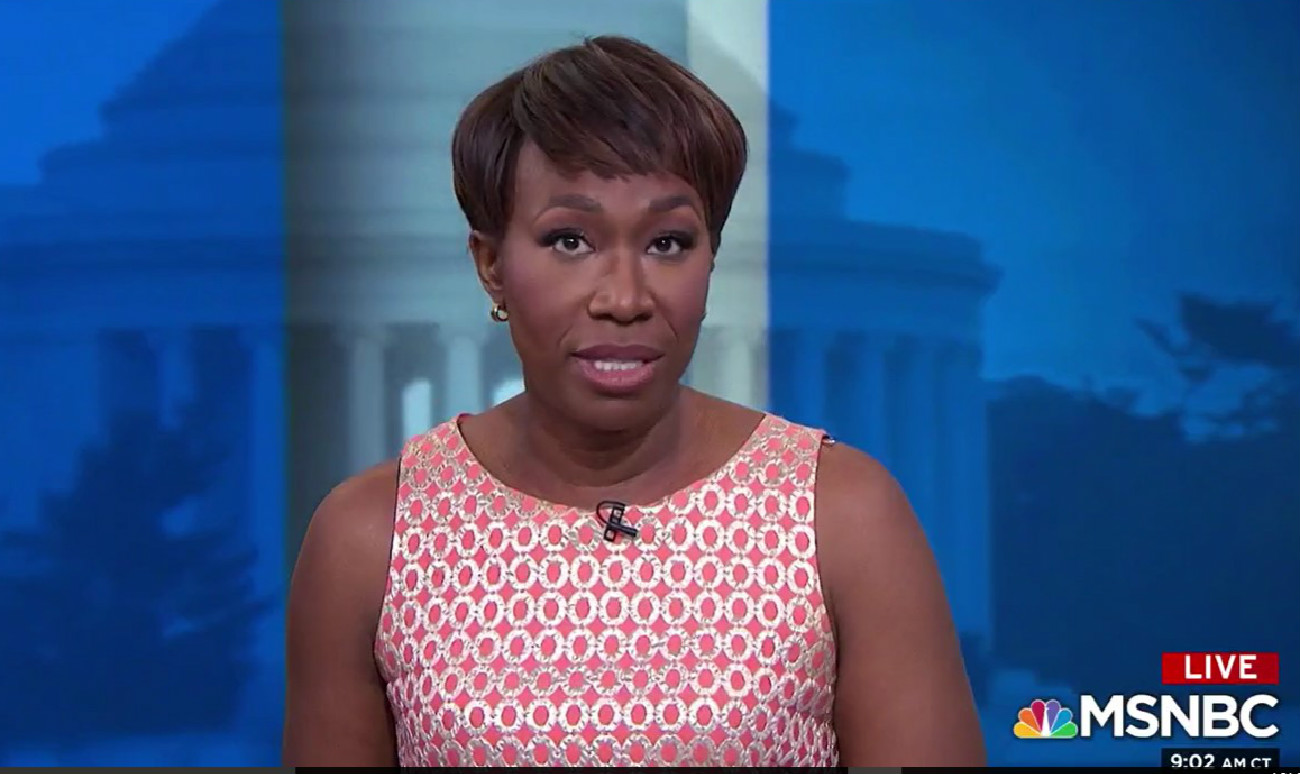 Almost a week after recently unearthed posts allegedly from her old blog caused a media firestorm and resulted in her going radio silent for days, MSNBC's Joy Reid addressed the controversy on air. In a monologue at the top of Saturday's AM Joy, the #Resistance hero stated that while she didn't believe she had written the slew of homophobic blog posts that had resurfaced, her cyber-security experts were unable to prove that was indeed the case.
Reid, however, did apologize for other past comments and tweets she had made that were seen as transphobic or mocked members of the gay community. After doling out her sorries to her friends and colleagues in those marginalized communities, Reid explained that she's not the same person she was "ever one year ago." This then led to a lengthy panel discussion with LGBT activists and political commentators, a group that included representatives from GLAAD and PFLAG. (You may remember PFLAG rescinded an award it had given Reid after she claimed her blog was hacked and manipulated.)
During the panel discussion, which went on for roughly forty minutes without a commercial break, Reid told her guests they could "grill" her on her old comments, tweets and blog posts that she says she doesn't remember writing. But, alas, there was no grilling. Her panelists largely praised and commended her for owning and taking responsibility for her past insensitive and ugly remarks while pivoting the conversation to LGBT issues today and how the focus should be on the Trump administration.
In response to Reid's opener, a number of her colleagues — including Rachel Maddow, who was targeted in some of the blog posts — rallied around the AM Joy host, stating how proud they are of her and how she expressed "remorse and regret" so "eloquently." And it is those statements that make it seem that no matter what, Reid's position is safe at MSNBC. And the hope is that this will all blow over, and everyone will just move on.
But, is that what should happen? The answer is simple: no.
The controversy isn't about the fact that she was culturally insensitive more than a decade ago. Hell, she's already apologized for old blog posts she made insinuating then-Florida Governor Charlie Crist was a closeted gay man. And that was that. We all have said or done regretful things in the past that look absolutely atrocious through a modern-day lens. People evolve in their lives. It is best to accept that you can't change the past and own up to it. That's all one can do.
Naw, the issue is all about Reid's now-spurious claims that her now-defunct blog was hacked. Remember, this all started with Reid providing Mediaite a statement on Monday that an "external party accessed and manipulated material" on the blog and the hateful posts were "fabricated." Following the hacking claims, the Internet Archive — which runs the Wayback Machine — posted that they saw no evidence to support any claims that the posts had been the result of manipulation or tampering.
Hours after the Internet Archive published that post, MSNBC distributed a statement from Reid's security consultant Jonathan Nichols and two letters her lawyer sent Archive.org and Google. Nichols' lengthy statement said there was "significant evidence" that Reid's blog had been "compromised." We here at Contemptor spoke with Nichols shortly after the statement was released and he went into detail about his methodology and why he believed Reid was telling the truth about being hacked. A day later, Reid's attorney John Reichman would confirm the FBI had opened an investigation into "potential criminal activities" surrounding Reid's blog and online accounts.
Since then, the claims made by Nichols have fallen apart, and he has stopped speaking to the media. On Thursday, the Daily Beast — which has also placed a hold on running Reid's columns — published an investigation into Nichols' report and found that his methodology crumbled when scrutinized. When presented with evidence that certain claims he made about manipulated screenshots were inaccurate, he noted he'd "become aware of some methodology issues" and was "looking to resolve the discrepancy." Other assertions he made in his report also withered under the light.
The Beast's Kevin Poulsen concluded his piece with this passage:
"It's possible that in the end Reid will discover her adversary isn't a determined hacker, but a far more dogged foe: The Joy-Ann Reid of years past, writing in a voice she can no longer recognize as her own."
And it certainly seems like that is the direction Reid is taking. She's stating that she doesn't remember writing those posts because they seem so "alien" to her, basically saying she doesn't recognize who she was back then. She's not copping to those posts being hers, all while acknowledging that after five-plus months, her cyber-security guys couldn't find any way to prove she didn't write them.
Meanwhile, after expressing regret over those past comments, she turned it over to a panel that lauded her for tackling this issue and taking ownership before turning on the media for obsessing on the story and changing the subject altogether. Not one person pressed her on her hacking claims. Not one. And it now feels like Reid has ensconced herself in a Hannity-like "safe space" cocoon in which she'll surround herself only with agreeable sorts while still offering up her own criticisms of others.
Is this where she wants to be? Is this what her fans and proponents want from her? Do liberals and Democrats feel comfortable lifting her up as a hero if she sidesteps from controversy in this manner? Do her colleagues really feel proud of the way she handled herself? Or are they just sticking by a teammate?
I guess we'll see how this all plays out.