Fox News' Howard Kurtz: 'Out Of Bounds' For CNN Host To Ask Kellyanne Conway About Husband's Tweets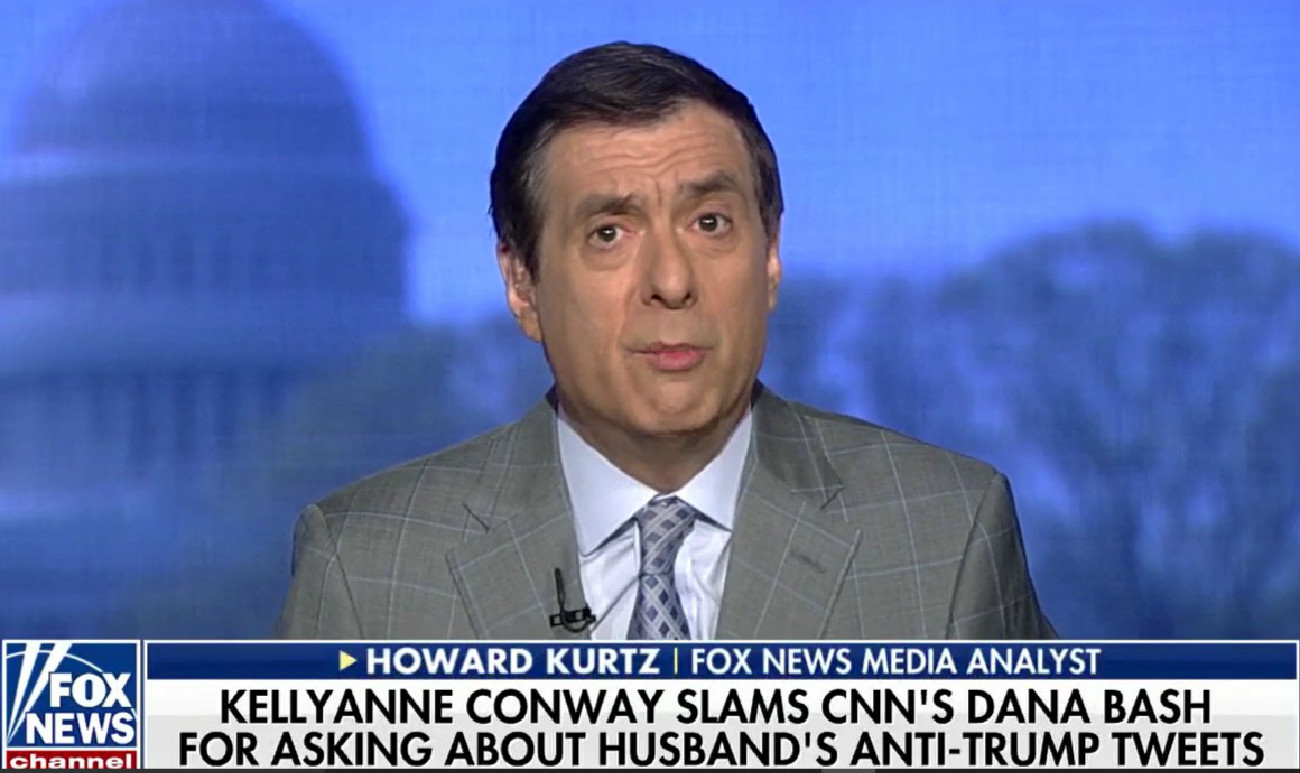 A day after White House counselor Kellyanne Conway tore into State of the Union guest host Dana Bash and said CNN employees' spouses and significant others were now "fair game" after Bash asked about George Conway's anti-Trump tweets, Fox News media analyst Howard Kurtz came out completely on Conway's side.
"First of all, it was very cringe-inducing to watch," Kurtz told colleague Sandra Smith on America's Newsroom Monday morning. "It went on for five minutes. Look, the question from the reporter was designed to embarrass Kellyanne Conway and it was out of bounds."
Kurtz went on to ask why a White House official should have to answer for her spouse's is saying about the president, especially since George Conway is a private attorney and not in the public eye. (Kurtz must have forgotten that time last year when Mr. Conway was under consideration for multiple DOJ positions, such as Solicitor General and head of the department's civil division.)
Smith noted that Bash pointed out in the heat of the moment that it was meant as a light-hearted question and that everyone is talking about the tweets. Kurtz dismissed the "everyone is talking about it" point by saying it only referenced like "500 people in Washington" spreading gossip. He then addressed Conway's veiled threat about going after CNN spouses after Smith brought up a CNN panel criticizing Conway as being out of control.
"That suggests that when she is asked this kind of question she is not entitled to defend herself and push back," Kurtz stated. "There is a double standard. Journalists think they can ask anybody ask anything they want but if somebody turns it back on us it's threatening and inappropriate and I don't believe that."
While the MediaBuzz host didn't feel Conway was lobbing out threats to when she told Bash multiple times that it should be "fun" and "interesting" now that spouses are "fair game," he did say Conway seized "an opportunity to throw it back at the person interviewing her."
"Interesting," Smith concluded. "To her point, the question had nothing to do with her work and it was a question about her spouse. So we'll see where this goes moving forward as she said."
So there you go. Per Fox News, it is completely out of bounds for public figures to be asked about their spouses' political views and positions. I'm sure that will be something the network follows to a tee in the future.
Watch the clip above, via Fox News.