CNN's Brian Stelter: It's Disrespectful To The Public For Trump To Blatantly Lie On Twitter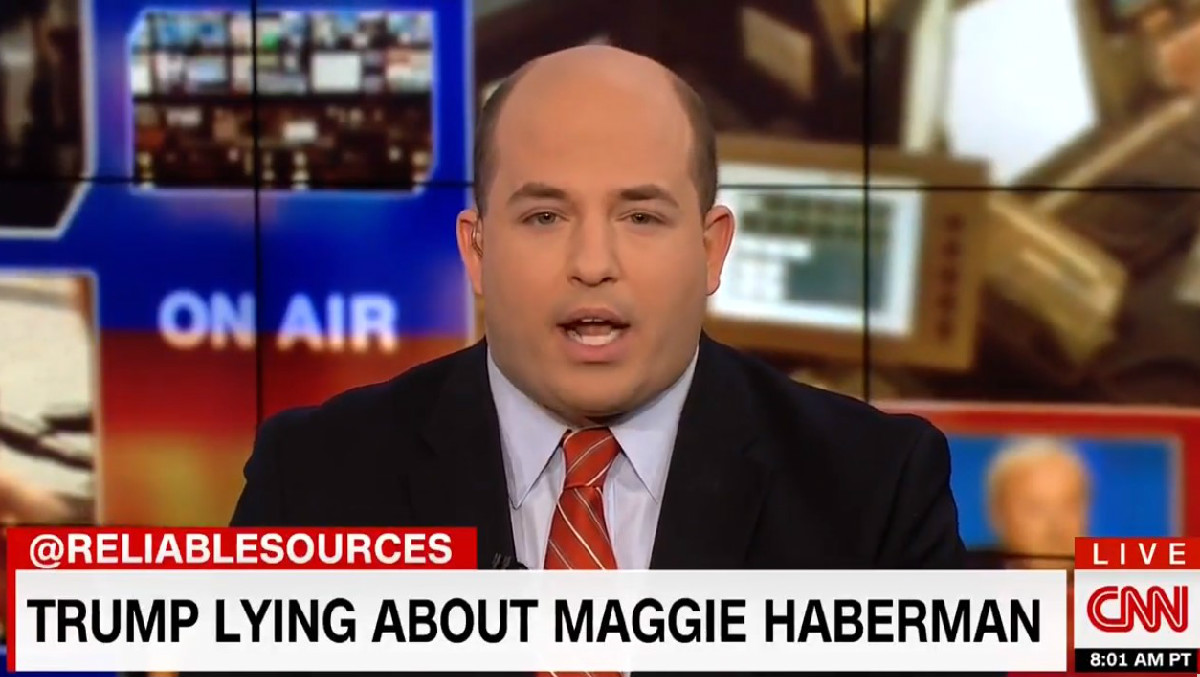 At the top of today's broadcast of Reliable Sources, CNN senior media correspondent Brian Stelter addressed President Donald Trump's recent tweetstorm about the New York Times' piece on Trump attorney Michael Cohen. And he concluded that the president's easily debunked lies are disrespectful to both Trump's fans and the public as a whole.
As you'll recall, the president sent the following tweets on Saturday morning in which he called NYT reporter Maggie Haberman a "Crooked H flunkie" who he never speaks to and knows nothing about him.
The New York Times and a third rate reporter named Maggie Haberman, known as a Crooked H flunkie who I don't speak to and have nothing to do with, are going out of their way to destroy Michael Cohen and his relationship with me in the hope that he will "flip." They use….

— Donald J. Trump (@realDonaldTrump) April 21, 2018
….non-existent "sources" and a drunk/drugged up loser who hates Michael, a fine person with a wonderful family. Michael is a businessman for his own account/lawyer who I have always liked & respected. Most people will flip if the Government lets them out of trouble, even if….

— Donald J. Trump (@realDonaldTrump) April 21, 2018
….it means lying or making up stories. Sorry, I don't see Michael doing that despite the horrible Witch Hunt and the dishonest media!

— Donald J. Trump (@realDonaldTrump) April 21, 2018
Stelter noted that the tweet was a "bald-faced lie" about Haberman and was wrong in "at least four different ways." Initially, the president misspelled Haberman's name. (The tweet was later deleted and resent with the proper spelling.) He also labeled Haberman a "third rate reporter," despite her recently winning a Pulitzer for her reporting. But the main issue Stelter had with the tweet was Trump's insistence that Haberman doesn't know the president.
"Here they are in the Oval Office together," Stelter stated, showing a picture of the Trump and the reporter. "Haberman has interviewed Trump on the record more than a dozen times."
Noting that Haberman takes these false attacks in stride, Stelter explained why he wasn't going to.
"Lying is disrespectful," Stelter declared. "It's not just disrespectful to Haberman or the journalists, but to the public. We all know the president uses Twitter to deliver talking points to the base it's very effective for him. But it's also disrespectful."
He continued, "Is he really — does he really think that his believers, his supporters are going to believe this lie? You know, when there's photographic proof to the contrary? it is disrespectful to his fans — to his Twitter followers — to post this kind of stuff."
Watch the clip above, via CNN.