Have EPA Chief Scott Pruitt's Nine Scandal Lives Run Out?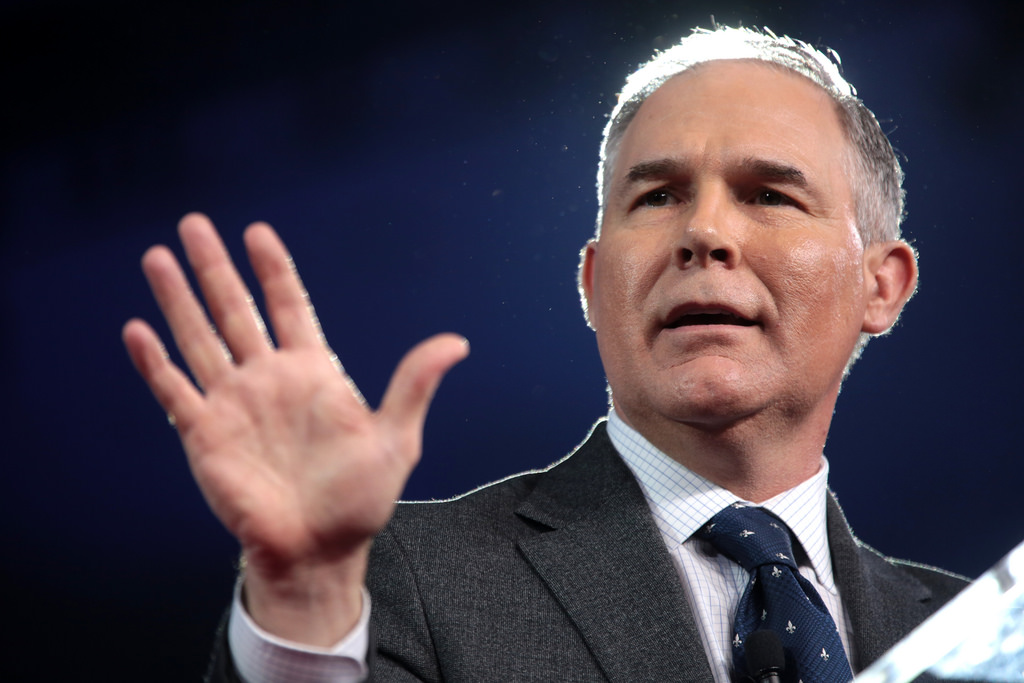 At this juncture in our nation's history, Executive Branch scandals pile up so fast and furiously, it's more than a full-time job trying to keep them straight. Even those that live Washington D.C. need tools to help them maintain and monitor infinitesimal narrative strands. Over at MSNBC, Rachel Maddow's Wall of Departures from the Trump administration requires a long memory and good vision from viewers who scan the giant, three-column screen dedicated to the fired and resigned. On March 13 of this year alone, Maddow's team added Secretary of State Rex Tillerson, the Under Secretary of State for Public Diplomacy, the NASA administrator, the head of the Forest Service and the President's personal assistant to the body count.
Just a few days later, the tax dollar-wasting exploits of Scott Pruitt claimed national attention. On March 21, CNBC ran this headline, and I felt certain Maddow would shortly add his name to the wall: EPA Chief Scott Pruitt Took First-class, Military, Charter Flights That Cost Taxpayers More Than $163,000 in First Year Alone.
The editors at the financial wing of NBC are commended for getting to the point. Shortly thereafter, on March 30, The Washington Post and other outlets covered Pruitt's corrupt, $50 a night, Washington condo quid pro quo. Reporters Brady Dennis and Juliet Eilperin wrote:
"The details about Pruitt's unusual living arrangements are the latest in a series of disclosures about his spending habits. The Post has documented Pruitt's extensive first-class travels on foreign and domestic trips during his first year in the administration….Records show that the administrator's dozens of first-class flights and upscale hotel stays have meant big bills for taxpayers…Those figures do not include expenses for the personal security detail and aides who typically accompany him."
For a few days, the mainstream media's pundits and talking heads were all over Pruitt. There was plenty to dissect beyond financial malfeasance (a $43,000 cone of silence!), including the disgraceful regulatory hatchet Pruitt has taken to U.S. environmental policy.
Alas however, the Trump team's tilt a whirl of insanity does not slow, and before Maddow's production team could make space for the beleaguered EPA Chief on the wall of shame, other stories superseded Pruitt. Expulsion momentum ebbed, replaced by the arcs of two other dramas riveting the nation this month.
At roughly the same time, fired FBI Director James Comey's book leaked to the press, and Donald Trump's longtime personal attorney Michael Cohen had his hotel room and office raided by New York-based FBI agents and prosecutors. The surprise sweep was the result of a tip from Robert Mueller, special counsel in the Russia investigation. Either of these developments are big enough to singularly dominate headlines, but the Trump era demands the very best multi-tasking skills.
So we've followed Comey on his media tour, promoting A Higher Loyalty: Truth, Lies, and Leadership. If you're like me, once you heard the Obama appointee tell CBS Late Show host Stephen Colbert that he wouldn't change a thing about his October 2016 surprise for the Clinton campaign, Comey fever broke. It might have been "unprecedented to be investigating a candidate for the president of the United States," in 2016, but I hasten to remind the former FBI Director that Trump was under investigation as well. On that, he kept mum. Comey's non-partisan integrity works in mysterious ways.
Concurrent with Comey's appearance on every network to repeat the same tired talking points (with a dash of paper-cup drinking, bourgeoisie affect), the FBI raid on Michael Cohen offered a tantalizing notion – a threat to the Trump administration possibly more imminent than Muller's investigation. Having served as POTUS' attorney, fixer, and confidant for decades, per USA Today:
"[Cohen] has combined legal knowledge, personal wealth and intimidation to unflinchingly promote and defend Trump's interests and to keep his boss' secrets out of the public eye.
Operating mostly behind the scenes, with a few high-profile exceptions, Cohen has functioned almost as a personification and extension of Trump's Twitter feed: punching back at slights, threatening adversaries real and perceived, hyping deals with superlatives that often turn out to strain reality and then scrambling to 'fix' problems that emerge along the way."
As Comey and Cohen commanded front and center media attention this month, the bombastic corruption of Scott Pruitt's EPA tenure receded into the background. But in today's online edition of The New York Times, the former Attorney General of Oklahoma is back in a big way. In a story entitled Scott Pruitt Before the E.P.A.: Fancy Homes, a Shell Company and Friends With Money, reporters Steve Eder and Hiroko Tabuchi point out that the EPA Chief's taste for the publicly-financed good life is nothing new. They write:
"An examination of Mr. Pruitt's political career in Oklahoma reveals that many of the pitfalls he has encountered in Washington have echoes in his past…Lobbyists and others in Oklahoma state politics who encountered Mr. Pruitt recalled him as a tough competitor who always had his eye on a higher office….while others said privately that he had exuded a sense of entitlement — that rules did not apply to him."
Pruitt's natural gifts for graft and lawlessness made him a natural fit to serve in the Trump administration. However the EPA head has generated so much sustained bad press, the Grifter-in-Chief felt compelled to tell his guy to "cool it." Yes, really.
In this volatile era, trying to predict what happens next is a fool's errand. But I believe Pruitt's time at the public trough is coming to an end.