'It's A Very, Very Complex Issue': Spicer On Trump's Flip-Flop On Chinese Currency Manipulation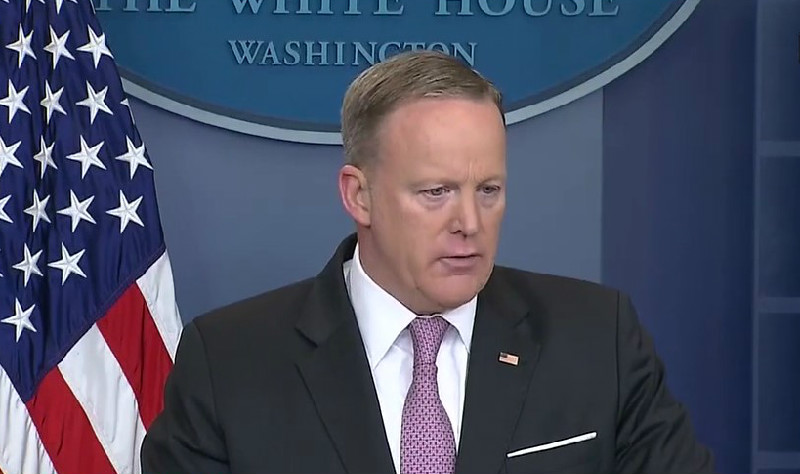 During Thursday's White House press briefing, White House Press Secretary Sean Spicer was pressed by reporters on a number of President Donald Trump's recent policy flip-flops, such as his stances on NATO, the Export-Import Bank, Janet Yellen as Fed chief and Syrian intervention.
One of Trump's most glaring witches, however, has been his current belief that China is not a currency manipulator. This, of course, flies directly in the face of what he said throughout his presidential campaign, as he used pretty much every campaign rally to go after the country on the issue. It was one of his go-to rallying cries.
Asked about this sudden shift, which occurred after Trump met with the Chinese president, Spicer presented it as "tough talk" used to get results for the American people.
"The president likes President Xi and got to know him well at Mar-a-Lago and I think has established a good relationship," the press secretary said. "At the end of the day this is always about developing a better situation for the American people and I think he's done that."
Another reporter pushed the press sec on the issue, asking why Trump decided to abandon this now and whether the president has any "other tools in his tool box" when dealing with China.
"I think it's a very, very complex issue and I'm going to leave it to the president to specifically answer that," Spicer responded.
Spicer also claimed that Trump didn't underestimate how difficult it would be to deal with North Korea after he was tossed a question on the president's comments about receiving a history lesson on the reclusive country from Xi during their visit. Trump said after his conversation with XI, he realized the situation with North Korea wasn't so easy.
Watch the clip above, via CNN.