Ben Carson's Morning Gets Started With Him Getting Stuck In An Elevator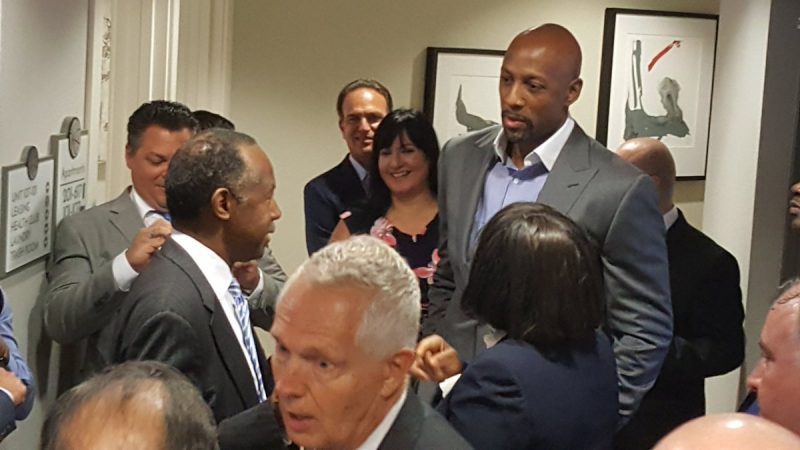 On Wednesday morning, Secretary of Housing and Urban Development Ben Carson and his wife found themselves stuck in an elevator for at least 20 minutes at a public housing complex in Miami.
Per reporters at the scene, local police and firefighters worked to free the retired neurosurgeon, who is in the middle of a "listening tour" where he is visiting low-income housing and inner-city neighborhoods in the Miami area.
Prior to his elevator adventure, Carson played some foosball at the Courtside Family Apartments.
First stop on Sec. Ben Carson's two-day listening tour of Miami: The Courtside Family Apartments (Alonzo Mourning should be here soon). pic.twitter.com/p0IDc4WnqZ

— Rene Rodriguez (@ReneMiamiHerald) April 12, 2017
With Carson stuck on the lift a little bit later, NBA legend Alonzo Mourning and law enforcement officers waited around for the fire department to arrive. (Mourning was apparently late for the meeting and tour.)
Alonzo Mourning and police wait for fire dept to arrive . Sec. Ben Carson is stuck in the elevator iat the Courtside Family Apartments pic.twitter.com/vySNZLNgD3

— Rene Rodriguez (@ReneMiamiHerald) April 12, 2017
But, no worries, as Carson was freed after a short while, and he was able to resume his tour with Mourning.
Firefighters just freed Sec. Ben Carson and his wife from a stuck elevator in #Miami @nbc6 pic.twitter.com/prSioKDyEs

— Julia Bagg (@JuliaNBC6) April 12, 2017
20 minutes later @SecretaryCarson is freed from stuck elevator at Courtside Morning Apts. Alonzo Mourning looks more relieved than anyone pic.twitter.com/umbTyGkNau

— Rene Rodriguez (@ReneMiamiHerald) April 12, 2017
Carson took to Twitter to thank Miami's police and firefighters for freeing him while also throwing some love Mourning's way.
Great meeting w/ Alonzo Mourning who is doing great work with low income housing & thanks to the hard working @miamipd and @cityofmiamifire pic.twitter.com/tl5UtFUpXU

— Ben Carson (@SecretaryCarson) April 12, 2017
This allowed Carson to make his way to another complex to play some pool with the residents.
Shooting some pool with the residents of Collins Park in Miami as I learn about low income housing in south Florida pic.twitter.com/1YISs7459C

— Ben Carson (@SecretaryCarson) April 12, 2017
Who knows what the rest of Wednesday has in store for Ben Carson.