Aides Reportedly Told Trump It Was 'Nonsensical' To Blame Democrats For AHCA's Failure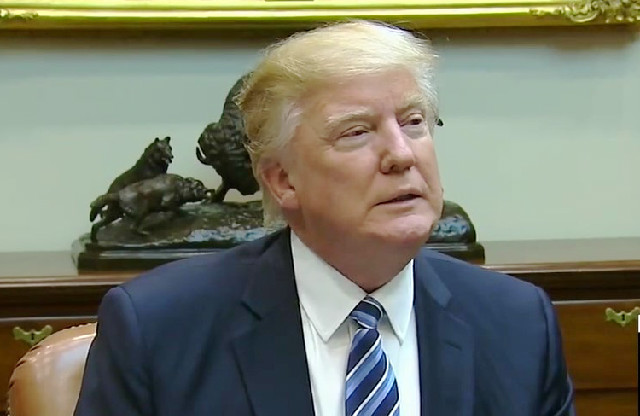 After the American Health Care Act was pronounced DOA and Speaker of the House Paul Ryan dutifully held a press conference to fall on his sword while explaining how the GOP hasn't figured out how to govern yet, President Donald Trump delivered his own statement in which he shirked all responsibility of the bill's failure.
Instead, he directly placed the blame on the Democratic Party and its House and Senate leaders, Nancy Pelosi and Chuck Schumer. Trump did this despite the fact that Republicans hold majorities in both chambers of Congress. And, of course, the White House is in GOP hands.
Well, per the New York Times, it appears that folks close to POTUS tried to tell him that this was a bad idea, because, y'know, it didn't make a damn lick of sense.
"After it was all over, the president dutifully blamed the Democrats, a party out of power and largely leaderless, after turning his back on their offers to negotiate on a bipartisan package that would have addressed shortcomings in the Affordable Care Act while preserving its core protections for poor and working-class patients.
Several aides advised him the argument was nonsensical, according to a person with knowledge of the interaction.
For Mr. Trump's Republican opponents, here was poetic revenge served cold. As a candidate in 2016, he initially scoffed at signing a Republican loyalty pledge, at times behaving more like an independent invading the Republican host organism than a normal presidential candidate."
This wasn't lost on political observers, either. Immediately after Trump delivered his remarks, CNN political analyst — and former presidential advisor — David Gergen called Trump "delusional" while highlighting that Ryan at least "manned up" for the AHCA's quick death.
The fact of the matter is, Trump found himself done in by his own party's dysfunction, along with the small little issue that the bill itself was highly unpopular. 33 House members were on the record of being against the AHCA — and that's before it ever got to the floor. It is very possible that even more would have jumped ship when it was apparent it wasn't going to pass rather than have this albatross around their neck come election time.
Worse, Trump did the hard-sell on this, largely because that's the only speed he knows. Therefore, with little understanding of what the bill offered, he was calling it "wonderful" and making other boasts that weren't supported by what the plan offered. His lack of knowledge likely didn't help when he was trying to bargain with specific reps to get their votes. Sure, cutting 'essential benefits' may appease Freedom Caucus members, it sure as hell makes more center-right lawmakers less likely to want to support it.
Trump as a politician needs an opponent, someone to place all the blame on for whatever ills are front and center at the moment. But, he's not running for anything. He's now the man. Can't pin this on Obama or Hillary or the "fake news media" or the Dems. When you're president, at some point, you need to publicly take the hit when you or your party fails.