Trump Will Announce His Supreme Court Pick Tomorrow: Pro-Choice Campaigners Fear The Worst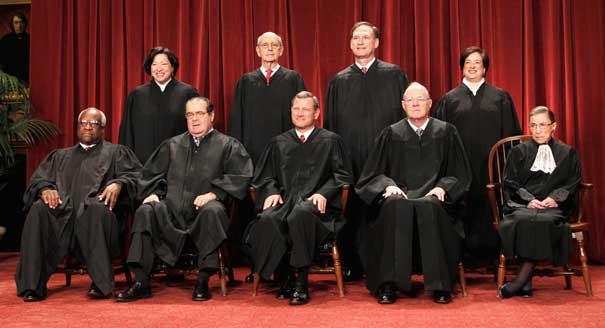 President Donald Trump will announce his choice for the Supreme Court tomorrow. The official nomination will be made public at 8pm Tuesday, according to a tweet from the president. There has been a vacant seat on the court since the death of Justice Antonin Scalia.
Choosing a new Supreme Court justice is the first major decision Trump will make since nominating the members of his cabinet. Many of Trump's cabinet picks have not yet been confirmed and his decision to choose a new justice so early in his term could cause difficulties.
Following the death of conservative Justice Antonin Scalia, President Barack Obama nominated moderate Judge Merrick Garland but Republicans in the Senate refused to even hold hearings on him. The unprecedented move was widely seen as a symptom of rampant partisanship.
Trump has said he wants to appoint a justice with Scalia's views to the court but liberals and moderates are worried Trump will choose someone even more conservative. Scalia was a widely respected jurist who had a consistent ideological approach and wrote well-informed opinions. Trump is likely to choose someone to the right of Scalia.
The Trump administration has pledged to be pro-life and one of Trump's first act was to re-instate a ban on funding NGOs that provide abortions. Pro-choice advocates are nervous that a new justice will oppose abortion rights and could possibly overturn the landmark Roe v. Wade decision that granted a constitutional right to choose.