Michael Steele On Trump Slamming John Lewis: "#1, Don't Tweet That. #2, Don't Go There"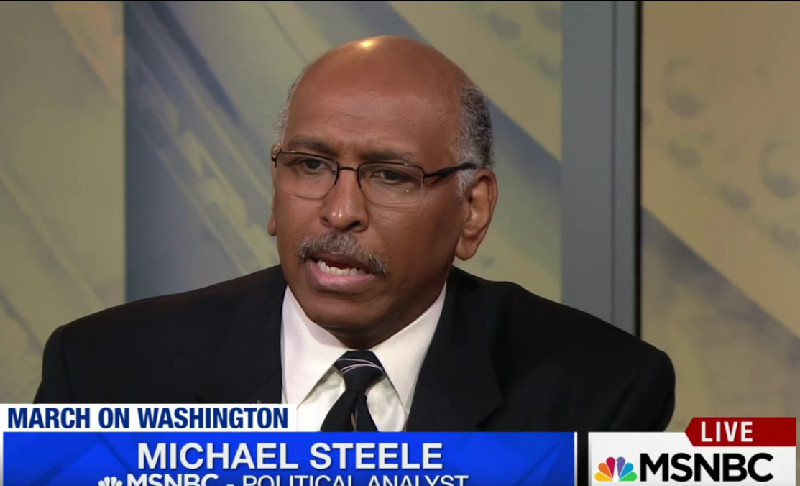 During an interview with MSNBC's Chuck Todd Friday, Democratic Congressman and civil rights icon John Lewis said that he no longer sees Donald Trump "as a legitimate president." The Georgia lawmaker gave Russian interference in the election to assist Trump as his main reason for saying this. He also noted that he would not be attending the inauguration next week.
Well, this morning, we got what we all expected — the president-elect sending out some mean tweets in which he said Lewis was "all talk, no action" and that his Congressional district was a hellhole.
Congressman John Lewis should spend more time on fixing and helping his district, which is in horrible shape and falling apart (not to……

— Donald J. Trump (@realDonaldTrump) January 14, 2017
mention crime infested) rather than falsely complaining about the election results. All talk, talk, talk – no action or results. Sad!

— Donald J. Trump (@realDonaldTrump) January 14, 2017
While Trump received the negative attention he was likely craving — possibly in an attempt to deflect scrutiny of the exploding Russia story — a member of his own political party took aim at him for driving a deeper wedge between him and the black community.
Appearing on MSNBC's AM Joy, former RNC chairman Michael Steele gave Trump three reasons why the incoming POTUS shouldn't have sent the tweet.
"Number one, don't tweet that," Steele said. "Number two, don't go there. Number three, step back and appreciate what's trying to be said."
After referencing Trump's continued claims that he's trying to bring people together, Steele added:
"Our expectation is, not only will you attempt that same effort that you would to white folks in other communities, but that you will show respect for our leadership, those who do represent our interests. You know, the tweet is unnecessary. John Lewis has a walk that very few people in this country, least of all Donald Trump, have ever walked."
Watch below via MSNBC:
Former RNC chairman @MICHAELSTEELE reacts to #Trump tweets criticizing Rep. John Lewis #AMJoy https://t.co/N1MSlsUmM2

— AM Joy w/Joy Reid (@amjoyshow) January 14, 2017