Seth Meyers: Trump Lied His Solid Gold Ass Off About The Carrier Deal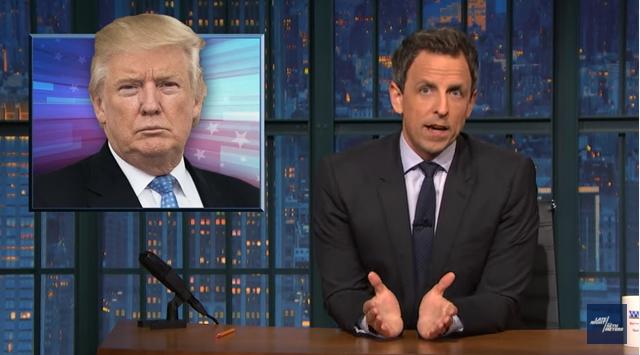 Seth Meyers criticized Donald Trump's Carrier deal on Late Night last night. Meyers pointed out that Trump had mislead the public about the number of jobs that would be saved. Carrier agreed not to move a plant from Indiana to Mexico but is still moving hundreds of jobs out the country.
Meyers explained that Trump's claims about keeping Carrier jobs in the US was not born out by fact. Trump described outsourcing jobs as ripping candy from a baby's hands, though Meyers found the analogy questionable. Trump stated publicly that he had forgotten he promised to keep Carrier in the country.
When it was revealed that Carrier was still moving hundreds of jobs to Mexico, steel union leader Chuck Jones said that Trump 'lied his ass off'. Meyers couldn't resist the metaphor, since Trump claimed his promise to keep Carrier jobs was a euphemism.
"Trump does have a tendency to lie his ass off," Meyers said. "That's why Chris Christie is always there to catch it." Meyers showed a series of clips where Trump made false statements followed by the comic sound of his ass falling off. "Solid gold ass! The man has a solid gold ass!"
You can watch below.