New York Trump Supporter Puts Gallows In His Yard, Claims It's Not Racist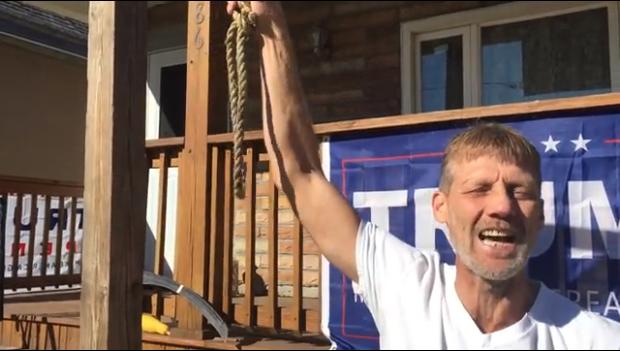 Egbert Bickley is a Donald Trump supporter from upstate New York who's caused outrage in his community and won the condemnation of area politicians for the unusual way he's decided to show his support for Trump. Bickley has put a gallows in his front yard.
According to The Buffalo News, Bickley originally hung an upside down US flag (a sign that the country is in distress) but that didn't get much attention. He then placed a gallows with a noose in his front yard. He's gained a lot of attention since putting up the gallows, which he claims is not a racist symbol.
"The noose actually comes along with my stress factor of everything that I'm tolerating with the ignorance that America doesn't want to see," Bickley told The Buffalo News. "I don't want to hang anybody. We're all hanging together, though, is my point."
The gallows isn't the only decoration outside Bickley's home. The distressed US flag still flies from the house, while a decorative gravestone reads 'Your name here' and a sign saying 'Trump Mafia' hangs from the house. Two local legislators have objected to the gallows as an obvious racist symbol.
"It's part of the whole package that's symbolizing how I'm upset with the politicians of Western New York, how I'm upset with everybody and what we've become and where I think we're going," Bickley said.
You can watch Bickley explain himself below.