Trump Laughs As Don King Drops N-Word While Introducing Him At Cleveland Church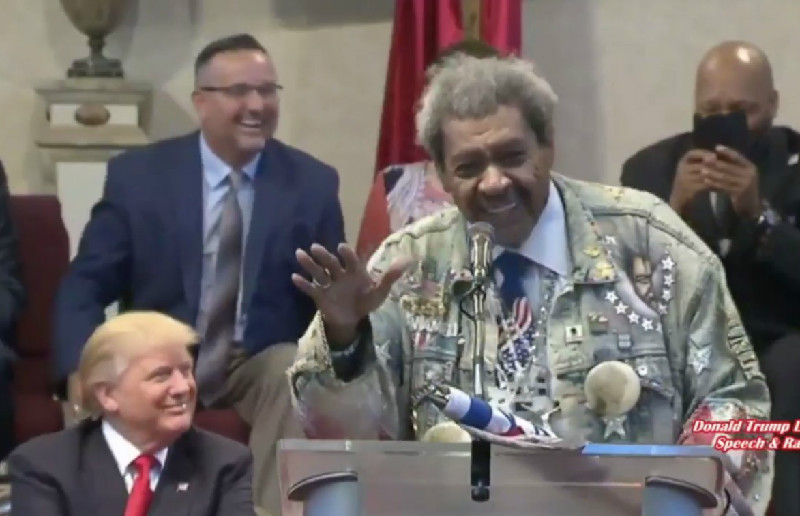 Well, when you toss an 85-year-old ex-murderer and forever con artist on the stage, you deserve what you get.
While introducing GOP nominee Donald Trump at a campaign event at the New Spirit Revival Church in Cleveland Heights, Ohio Wednesday, boxing promoter Don King dropped the racial slur of all racial slurs.
Speaking at the pulpit of the predominately black church — Trump is still fully engaged in Black Panderfest 2016 — King was trying to make some kind of point about the black experience and Michael Jackson when it slipped out.
"I told Michael Jackson — I said if you're poor, you are a poor negro. I would use the n-word. But if you are rich, you are a rich negro. If you are intelligent, intellectual, you are an intellectual negro. If you are dancing and sliding and gliding nigger, I mean negro, you are dancing and gliding and sliding negro. So do not alienate because you cannot assimilate."
What should be notable here is when King said the word, Trump and his white surrogates who were on stage with him, such as Gen. Michael Flynn, were smiling and guffawing. Meanwhile, a black woman seated next to Flynn wasn't amused at all.
Compare the reactions of Gen. Flynn and the woman he's sitting next to when Don King uses the n-word. pic.twitter.com/IKZ7edDU0S

— Philip Bump (@pbump) September 21, 2016
After King was done, Trump thanked him and stated, "There's only one Don King. Only one."
Reactions on Twitter were about what you'd expect:
Don King dropped the N-word while opening for Donald Trump this morning. What is even happening pic.twitter.com/a56Q7HLGoJ

— Philip Lewis (@Phil_Lewis_) September 21, 2016
When you see why Don King is trending on Twitter. pic.twitter.com/FHpQjpnubH

— Joe Giglio (@JoeGiglioSports) September 21, 2016
This is some of the most shucking and jiving tap dancing buffoonish coonry I've seen all year. Don King should be ashamed of himself https://t.co/5DyI6EkVMe

— Marcus Hassan (@smoothkobra) September 21, 2016
The event is being held at a church that is led by Pastor Darrell Scott, a prominent Trump supporter who has served as a surrogate for him while heading up his diversity group. It also doubled as a televised town hall, moderated by Fox News' Sean Hannity that will be aired Wednesday night. The forum will focus on Africa-American issues. It should be noted that roughly one percent of Hannity's television audience is black.