Trump Wants "Extreme Vetting" Of Refugees, Not So Much For GOP Nominees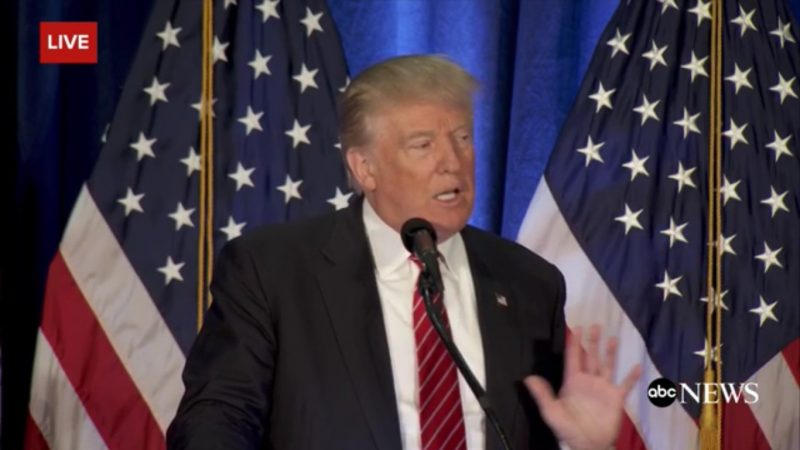 Monday brought us Donald Trump's big, beautiful, great, so very, very great, unbelievable foreign policy/KILL ISIS speech. A speech that many, many, many people were saying how it was just so amazing and remarkable. Historic, even! Leadership! Tremendous use of the Teleprompter! Did we mention how great it was?
In front of a supportive crowd in Youngstown, Ohio, the GOP nominee unveiled his plan to eradicate ISIS and RADICAL ISLAMIC TERRORISM ™ by using a super-secret military strategy, starting a Cold War with the Middle East and demanding ideological tests of all immigrants entering the United States. In fact, Trump called this "extreme vetting."
From Monday's address:
"A Trump Administration will establish a clear principle that will govern all decisions pertaining to immigration: we should only admit into this country those who share our values and respect our people. In the Cold War, we had an ideological screening test. The time is overdue to develop a new screening test for the threats we face today. I call it extreme vetting. I call it extreme, EXTREME vetting!
In addition to screening out all members or sympathizers of terrorist groups, we must also screen out any who have hostile attitudes towards our country or its principles – or who believe that Sharia law should supplant American law. Those who do not believe in our Constitution, or who support bigotry and hatred, will not be admitted for immigration into the country."
OK, now besides the fact that an ideology test, especially one at least partially based on religion, would likely be unconstitutional, would Donald Trump himself even be able to pass such a test? Considering his entire campaign has been rooted in racism, bigotry and demagoguery, one would think not.
However, the other thing at play here is Trump's use of the term "extreme vetting." It is nothing if delicious irony that the current Republican standard-bearer is tossing around that term considering how unwilling he is to deal with any real scrutiny. The guy refuses to release his tax returns. He forces everyone who works for him to sign non-disparagement agreements. He lies about anything and everything and won't own up to it.
And, let's not forget the news that hit the night before his big speech. The New York Times reported that Paul Manafort, Trump's campaign manager, had received $12.7 million of under-the-table money from a pro-Russian political party in Ukraine, further highlighting the uncomfortably close relationship the Trump campaign has with Russia and Vladimir Putin. Hell, Trump's daughter is currently cavorting in Europe with Putin's current girlfriend! But let's not get any answers about Trump, Russia, Manafort and Putin.
Many on Twitter had the same thought about the lack of vetting of Trump and his campaign after he called for further screening of refugees.
"Extreme vetting" is what the GOP didn't do before nominating this know nothing con man buffoon.

— BWD (@theonlyadult) August 15, 2016
Maybe @realDonaldTrump should've started his Extreme Vetting with Paul Manafort

— David Samples (@NatureGuy101) August 15, 2016
Shorter Trump: "Immigrants should face extreme vetting. But I, as a Presidential candidate shouldn't" #WhereAreYourTaxes

— Richard Hine (@richardhine) August 15, 2016
I believe in the "extreme vetting" of Presidents.#releaseyourtaxreturns https://t.co/yXP7ya6DZZ

— Maggie Jordan (@MaggieJordanACN) August 15, 2016
How about "extreme vetting" of presidential candidates? Starting with tax returns. https://t.co/itlKFZb5wi

— Matt Crawford (@MattTCrawford) August 15, 2016
Below is video of Trump discussing his immigration policy, courtesy of ABC News:
.@realDonaldTrump proposes "extreme vetting" for immigrants with ideological screening test https://t.co/IS35dxGmaw https://t.co/JSQRsi8XYu

— ABC News Politics (@ABCPolitics) August 15, 2016