Trump's Smear Of Hero Soldier's Family Could Be GOP's Last Straw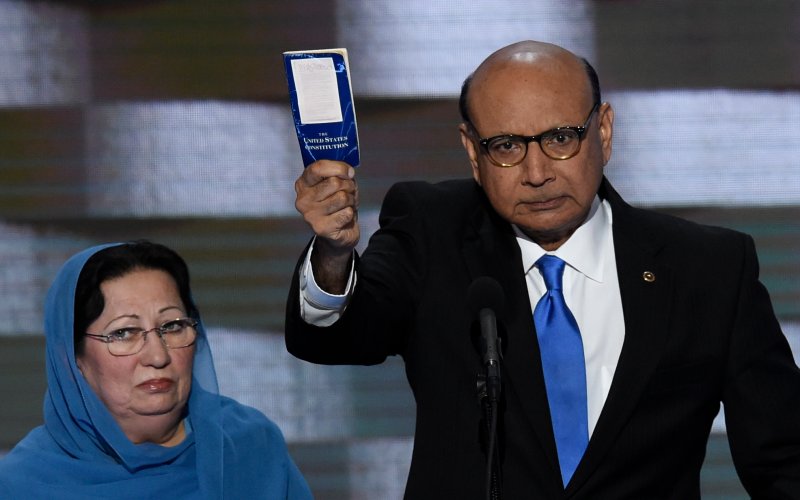 There is panic among Republicans today as the party continues to defend Donald Trump following his confrontation with the parents of a Muslim American who gave his life for his country.
The Trump campaign is struggling to deal with the fallout from Trump's attack on the family of a fallen soldier who happened to be a Muslim. Khizr Khan fired back at Trump's Islamophobic slurs against his family. He claimed Trump had a 'black soul'.
For months, Trump has deflected all criticism, even when he claimed Senator John McCain wasn't a war hero because he was captured. Now it seems he has finally gone too far. This very public feud with the family of a dead American hero has dealt a serious blow to the Trump campaign.
Republicans are scrambling to respond to the crisis. Trump's attempts to deflect from the heroic sacrifice of the Khans' son failed and the campaign's attempts to change the conversation to one about Islamic terrorism also fell flat. Trump's demand that Khan renounce terrorism was met with derision.
Trump's usual tactic of accusing his critics of being unfair to him has also backfired as the Khans prove opponents Trump can't intimidate or slur. There is now serious concern among high-ranking Republicans that this crisis could finally sink Trump's campaign.
The campaign has initally struggled to respond to Khan's criticism. After his speech at the Democratic National Convention went viral, Trump attempted to undermine him by claiming he was 'controlled' by the Clinton campaign and suggesting his wife was not allowed to speak.
It's ironic that Muslim immigrants are taking Trump to task. Trump has campaigned on a platform of mass deportation of undocumented immigrants and banning people from Muslim countries. The GOP is increasingly worried that a mild mannered Muslim couple has done more damage to Trump than Ted Cruz or Marco Rubio ever could.