Donald Trump Has Already Backed Out Of Debate With Bernie That He Proposed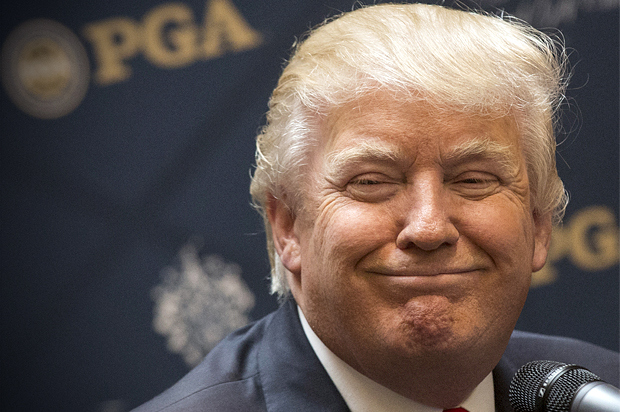 For a few hours, social media was abuzz with the possibility of an actual debate between presumptive GOP nominee Donald Trump and Democratic hopeful and self-proclaimed political revolutionary Bernie Sanders. This was all due to Trump telling ABC's Jimmy Kimmel that he would debate Sanders on national television as long as the proceeds would go to charity. He then talked about how big the ratings would be and yada yada yada.
With Democratic frontrunner Hillary Clinton having already declined Fox News' invitation for a debate with Sanders, Bernie jumped all over this news, tweeting the following:
Game on. I look forward to debating Donald Trump in California before the June 7 primary.

— Bernie Sanders (@BernieSanders) May 26, 2016
Once Bernie sent that out late Wednesday evening, Sanders supporters and news media outlets got uber excited at the prospect of a prime-time Trump-Sanders spectacle. Berners felt like this could be the thing to push Sanders to the overwhelming victory he needs in California to give him the nearly impossible delegate count he needs to grab the nomination. The news just loved the thought of something else shaking up this already insane election season.
But, lo and behold, it was all quickly doused with cold water, as those who have paid any attention to Trump knew it would be. Thursday morning, CBS News reported that the Trump camp has already begun telling news outlets that he was just kidding.
Multiple sources tell @Cbsnews that Trump was kidding about debating Sanders & it will never happen. (H/t @stevechaggaris and @MajorCBS)

— Sopan Deb (@SopanDeb) May 26, 2016
Chances of a @realDonaldTrump @BernieSanders debate? From 3 #Trump sources: #NeverHappen "0" & "It was a joke." #TooBad #PayPerView

— Major Garrett (@MajorCBS) May 26, 2016
Imagine that! The guy who backed out of at least two GOP debates, who promised to release his tax returns for months before reneging and who has contradicted or flip-flopped on nearly every single issue he's discussed was just making shit up on TV. Who would've thought?