Republican Senator Really Really Mad That America Isn't Jailing More Of Its Citizens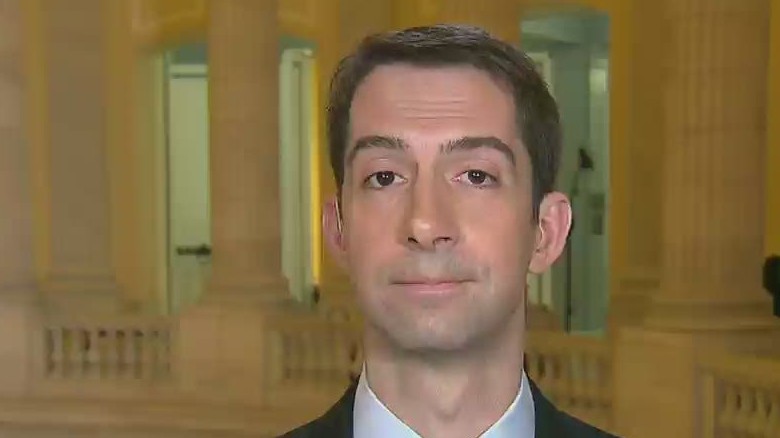 It looks like Sen. Tom Cotton (R-AR) is looking to replace Ted Cruz as the Senate's biggest gaping asshole.
In a speech on Thursday at The Hudson Institute, Cotton, most noted for trying to undermine the Iran Deal by sending that country a mutinous letter, stated that America doesn't actually have a need for criminal justice reform due to over-incarceration. In his opinion, the country with the highest prison population in the world isn't jailing enough people.
From Politico's piece on the speech:
Cotton, who has been an outspoken critic of the bill in Congress that would reduce mandatory minimum sentences, smacked down what he called "baseless" arguments that there are too many offenders locked up for relatively small crimes, that incarceration is too costly, or that "we should show more empathy toward those caught up in the criminal-justice system."
"Take a look at the facts. First, the claim that too many criminals are being jailed, that there is over-incarceration, ignores an unfortunate fact: for the vast majority of crimes, a perpetrator is never identified or arrested, let alone prosecuted, convicted, and jailed," Cotton said during a speech at The Hudson Institute, according to his prepared remarks. "Law enforcement is able to arrest or identify a likely perpetrator for only 19 percent of property crimes and 47 percent of violent crimes. If anything, we have an under-incarceration problem."
The fact is, the United States has less than five percent of the world's population but almost 25 percent of its prisoners. Currently, the number of jailed Americans totals over 2 million. But, yeah, we need to put more of our citizens behind bars, because freedom or something.
Also, Cotton made sure to not just throw empathy out the door regarding locking up more Americans. He also wants to make sure they don't ever get to be productive members of society and continue the long vicious cycle of poverty and crime.
On the effort to "Ban the Box," which Cotton called a "praiseworthy" but ultimately misguided undertaking, he also called it inappropriate for the government to dictate hiring decisions.
With respect to restoring felons' voting rights, Cotton said that decision should be left to the individual states. Just last month, Virginia's Democratic Gov. Terry McAuliffe signed an executive order granting voting rights to felons who have completed their sentences, reversing decades of state law predating the Civil War.
"Now, it's true there were felon-disenfranchisement laws that deliberately targeted blacks after Reconstruction. Each of those laws has been justly struck down by the Supreme Court or amended to rid them of their original racial animus," Cotton said. " But that sad chapter in our history doesn't undermine the logic behind modern felon disenfranchisement laws. Should murderers, rapists, and others whose behavior fall so far outside the norms of our society be immediately accommodated? Given recidivism rates, should we create an automatic pro-crime constituency in our society? Should felons be trusted to elect legislators who make the law, prosecutors who enforce it, and judges who apply it?"
And, just for good measure, and to keep the dog-whistling going, Cotton brought up the 'Ferguson Effect,' because why the fuck not. I mean, there might still be some minorities out there that might be thinking about voting Republican in November, and we can't have that now. Not in the Age of Trump.