Remember The Time Corey Lewandowski Claimed He Never Touched "Delusional" Michelle Fields?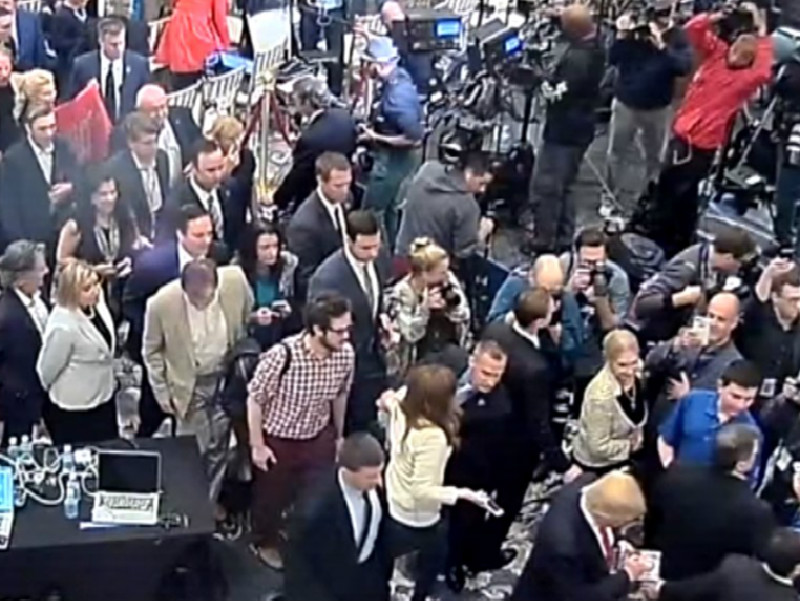 News broke Tuesday morning that Donald Trump's campaign manager Corey Lewandowski turned himself into police in Florida so he could be charged with simple battery. The charges stem from an incident that occurred at a Trump press conference earlier this month where former Breitbart reporter Michelle Fields was forcefully grabbed and tossed aside by Lewandowski. After charging Lewandowski, Jupiter police released a short surveillance video that clearly shows the incident.
Lewandowski is due to appear in court in May to face the charges. Fields had filed a criminal complaint shortly after the incident, largely due to accusations from Trump's camp (and her own employer) that she was making this all up to gain attention. In fact, Lewandowski himself took part in gaslighting her, using his Twitter account to link to unbelievably sexist 'news' stories about Fields from discredited crazy guy Chuck Johnson.
However, one thing that may play in court is a tweet he sent a couple of days after he grabbed Fields. At that time, he not only called the reporter "delusional," but he explicitly said he didn't touch her.
@MichelleFields you are totally delusional. I never touched you. As a matter of fact, I have never even met you.

— Corey Lewandowski (@CLewandowski_) March 11, 2016
While at that time, there was video, audio, photos, eyewitness accounts and physical evidence that backed up Fields' account, none of it was as clear and explicit as the surveillance video that absolutely shows the events exactly as Fields and Washington Post reporter Ben Terris described. So, will the Trump camp fire Lewandowski as he was caught lying? Of course they won't!
Below is their statement to the press: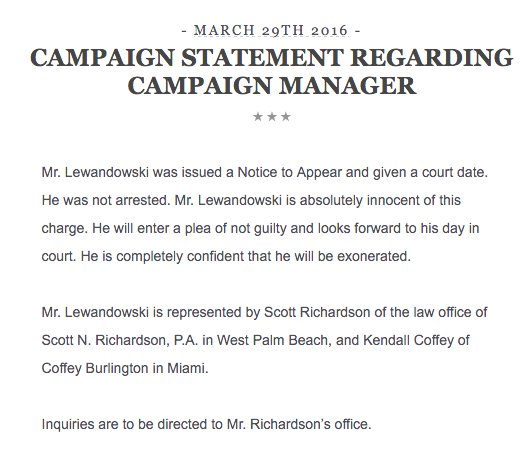 Remember, Donald Trump is the presumptive nominee of the Republican Party.