Hillary Campaign To Bernie: No More Debates Unless You Change Your Tone And Play Nice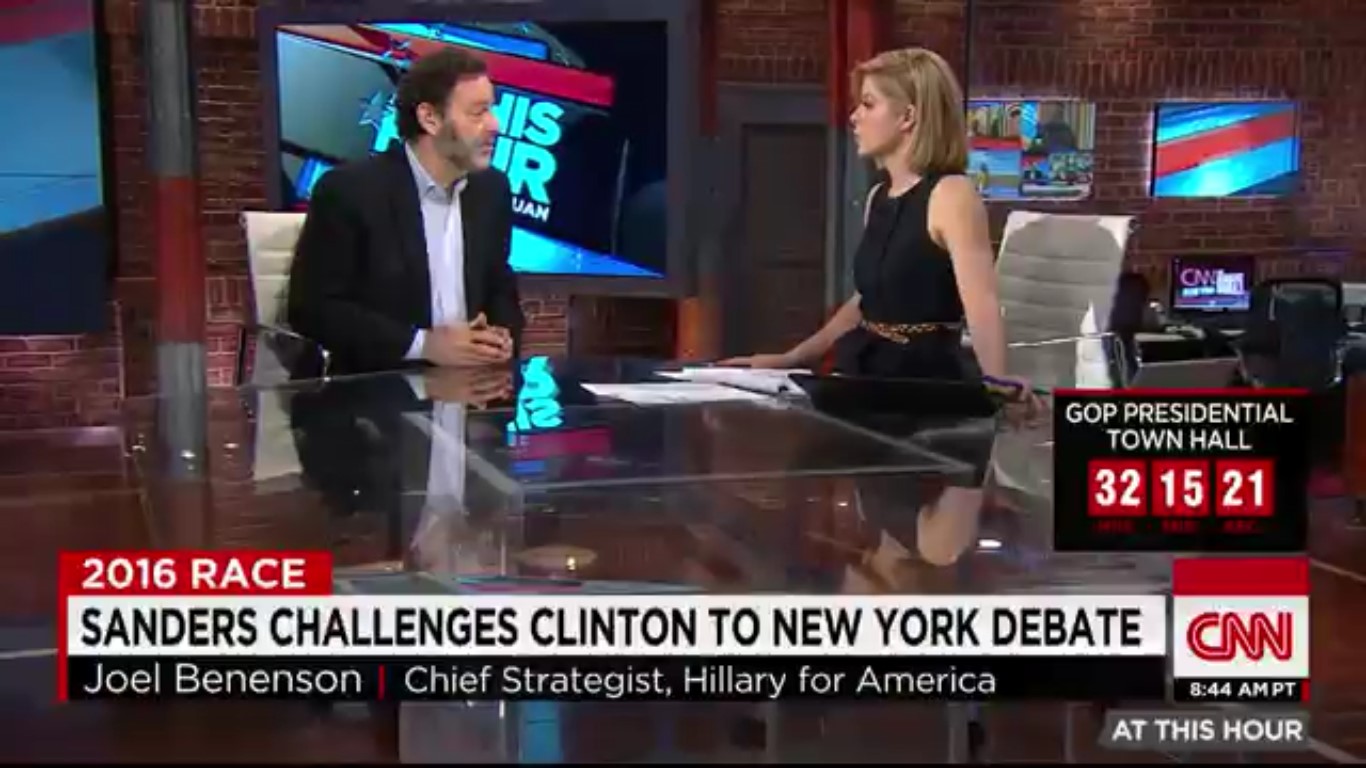 Hillary Clinton's chief strategist took to CNN on Monday to try a new tactic in the tightening Democratic race between the former Secretary of State and Vermont Senator Bernie Sanders. And what was the new plan? Apparently, sound a bit like Donald Trump.
Yep. During an interview with Kate Bolduan, Joel Benenson said that the ex-First Lady and current Democratic Presidential frontrunner wouldn't schedule any further debates with Sanders due to the way he has been campaigning against her. In Benenson's view, the democratic socialist has been too harsh against Clinton out on the trail and the ads his campaign is running are negative in tone.
After a back and forth between the two over Benenson's initial refusal to answer the question regarding additional debates, which the two camps had agreed to earlier this year, Bolduan was finally able to get Benenson to provide a somewhat direct response.
"The debates have been very good, but Senator Sanders doesn't get to decide when we debate, particularly when he's running a very negative campaign against us. Let's see if he goes back to the kind of tone he said he was going to set early on. If he does that, then we'll talk about debates, but we're not going to talk about it."
This is not a good look for the Clinton campaign. It appears they are searching for a reason, any reason, to avoid doing another debate with Bernie. They don't want to give Sanders any opportunity to gain momentum ahead of the remaining primaries. In this instance, Sanders is calling for a debate in New York ahead of the state's primary on April 19th.
While this might be a strictly political ploy in an effort to prevent any gains by her opponent, this is going to come across to many — specifically Berniecrats — as Clinton acting a lot like Trump. In this instance, her camp is making demands of Bernie to change his behavior and to treat her fairly. Otherwise, they aren't going to participate in anything. It reeks of petulance and entitlement, and in the end, it may backfire because Sanders can use it to his advantage by saying Hillary is scared of him. Especially as this comes on the heels of him winning three caucuses over the weekend.
Below is video of the exchange, courtesy of CNN:
Sanders challenges Clinton to a NY debate ahead of primary. Clinton camp response? @benensonj says not so fast. https://t.co/B6sfpcGpX5

— Kate Bolduan (@KateBolduan) March 28, 2016