Trump On Reporter Assault: "Perhaps She Made The Story Up…I Think That's What Happened"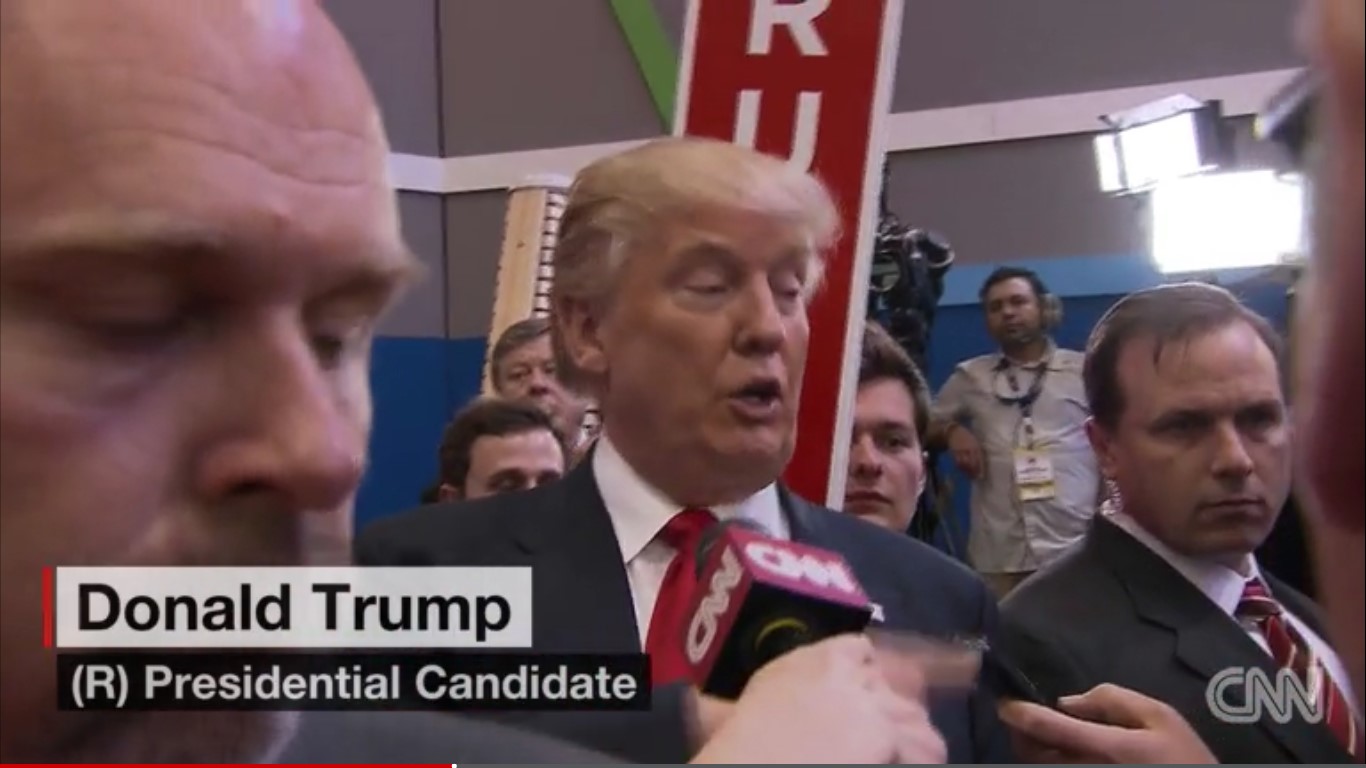 After avoiding questions during Wednesday night's CNN interview and Thursday night's GOP debate regarding his campaign manager assaulting a female reporter, Republican Presidential frontrunner Donald Trump was finally asked about the incident following his 'civil' debate performance. While CNN's Chris Cuomo completely let Trump off the hook during his post-debate interview, his colleague Dylan Byers did press the Trumpster in the spin room about the growing controversy.
And, as one would expect, Trump completely denied the whole thing happened. Despite an audio recording capturing campaign manager Corey Lewandowski assaulting Breitbart reporter Michelle Fields, another reporter witnessing the actions and Fields' arm being bruised, Trump claimed that he heard from other people that Lewandowski didn't do anything and she is probably making the whole thing up.
From Byers' piece:
"This was, in my opinion, made up," Trump told CNN after Thursday night's Republican debate. "Everybody said nothing happened. Perhaps she made the story up. I think that's what happened."
…
I heard that nothing happened. You know, we're surrounded by Secret Service. We have many Secret Service. You see some of them here. When we left, I spoke to them. Nothing happened. This was, in my opinion, made up," he told CNN.
"Now I didn't see anything. All of a sudden we heard about it later on. But the Secret Service said nothing happened. The Secret Service are amazing people. They said absolutely nothing happened. He [Corey Lewandowski] didn't hear about it until like, the next day," Trump continued.
"I wasn't involved in it. But the Secret Service was surrounding everybody. They said nothing happened. Everybody said nothing happened. Perhaps she made the story up. I think that's what happened," he said.
Byers also wrote that he asked Lewandowski about his involvement, only to be stonewalled, as the campaign flak said he was going to go work with Trump that evening and that was it. However, even though he refused to provide an answer to Byers about grabbing Fields, he sent out the following tweet claiming the reporter was "delusional" and making shit up.
@MichelleFields you are totally delusional. I never touched you. As a matter of fact, I have never even met you.

— Corey Lewandowski (@CLewandowski_) March 11, 2016
Lewandowski's tweet was a continuation of his bullying tactics towards Fields in an attempt to intimidate her into silence. In the immediate aftermath of the Tuesday night incident, Lewandowski claimed that he was unaware that Fields worked for the Trump-friendly Breitbart, and thus grabbed and yanked her because he thought she was part of the adversarial (liberal) media. However, since that time, he and the campaign have taken a different tact — undermining Fields' credibility and gaslighting her.
On Thursday, as the story gathered more steam as Fields' colleagues began rallying around her and the mainstream media began paying attention, Lewandowski turned to one of the few people in this world that has less scruples and morals than him — Chuck Johnson. The former Daily Caller writer and now full-time troll wrote an abhorrently misogynistic 'article' about Fields in which he called "bullshit" on her claims. Johnson, who is permanently banned from Twitter due to multiple instances of harassment, saw his article shared by Lewandowski. (The campaign manager also shared an older Johnson piece as well as another Daily Caller article to claim she was an attention seeker.)
We're Calling Bullshit On Michelle Fields – GotNews https://t.co/VKpMaSLnmm

— Corey Lewandowski (@CLewandowski_) March 10, 2016
Michelle Fields is an attention seeker who once claimed Allen West groped her but later went silent. https://t.co/J86Ej42eYx

— Corey Lewandowski (@CLewandowski_) March 10, 2016
Daily Caller reporter assaulted by NYPD during 'Occupy' protests — professional reporting or attention seeking? https://t.co/FqOQQMvNcy

— Corey Lewandowski (@CLewandowski_) March 10, 2016
What is amazing — and frightening — about all of this is the fact that Lewandowski apparently admitted to treating Fields roughly on Tuesday night. However, when the story didn't go away, and members of the media shared their outrage about how a reporter was treated (especially with the Trump campaign constantly targeting the media), he changed his tune and began attacking her personally while claiming she's a fabulist.
The thing is, Breitbart was already in bed with Trump. They'd been accused of taking money from his to provide positive coverage. The publication has been nothing but a fawning love letter to The Donald for months. And, even then, Trump is treating one of their reporters like this. They have no problem lying in the face of undeniable evidence and bullying someone into submission.
If they act this way to 'friendly' press now, how badly will they trample freedom of speech during a Trump Administration? The mainstream media needs to wake up NOW before it's too late. This man is marching to the White House and they've been complicit in his rise. The moment he walks through those doors, it is game over.
UPDATE: MSNBC's Steve Kornacki posted the following video on Twitter showing the moment Fields was manhandled. However, it isn't clear who took her down — Lewandowski or another security officer.
.@MSNBC video of the alleged incident between @CLewandowski_ and @MichelleFields https://t.co/pEux8KHqmr

— Steve Kornacki (@SteveKornacki) March 11, 2016