Another Day, Another Violent Trump Rally: Protesters Slammed And Arrested In St. Louis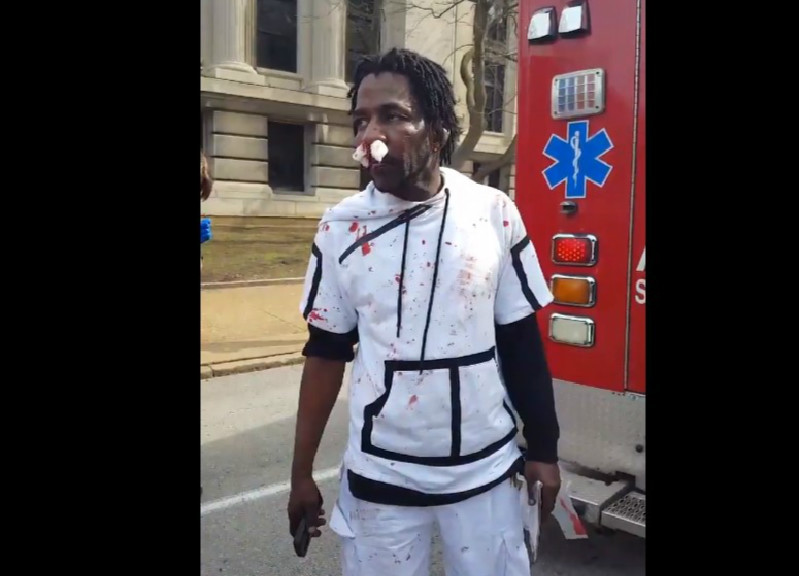 The moment it was announced Republican frontrunner and Benito Mussolini cosplayer Donald Trump was coming to St. Louis to host a campaign rally, everyone in and around the city knew there were going to be protests. Hell, this is essentially ground zero of the Black Lives Matter movement, and Trump's rallies around the country have regularly been interrupted by BLM protesters. He was coming right into the lion's den, and it seemed for all the world he was hoping for a chaotic display to inspire and energize his white nationalist fanbase.
Of course, in Trump world, things move fast, and the narrative over the past couple of days has changed. After incidents involving a protester getting sucker-punched by a white supporter and a reporter being manhandled by Trump's campaign manager, the mainstream media began questioning the candidate on the level of violence at his campaign events. At Thursday night's GOP debate, he said he hoped his tone wasn't causing it, but also blamed protesters for acting in a violent nature and leading to confrontations. He also claimed after the debate that the female reporter who was assaulted at his press conference was making shit up.
Regardless of his comments, it should have seemed clear to him that it would be in his best interests to either cancel the St. Louis event or try to soften his message a bit on Friday. But, that wasn't happening, and we got what was likely expected by most — a bunch of protesters violently arrested by police while Trump egged it on from the stage. According to those on the scene, at least 28 to 30 protesters were detained, many of them zip tied and bodyslammed to the ground. At least one person was bleeding heavily from the face.
Speaking with Marissa Southards, a Black Lives Matter ally (and the author's sister) who attended the event with a  large group of protesters responsible for the biggest demonstration, the St. Louis police decided to arrest the demonstrators rather than escort them out. Earlier in the speech, a couple of other small protests broke out that were unrelated to the planned action that led to the arrests. Those other protesters were merely escorted out of the building.
However, once the BLM protesters jumped into action, the police took matters into their hands and grabbed up as many as they could. According to Southards, many were slammed viciously to the floor, and the police then used zip ties to bind their hands behind them.
Below are some videos that she posted to Twitter showing the arrests:
Arrests happening now pic.twitter.com/5bDQ1w6Ihm

— Marissa (@southards_3) March 11, 2016
— Marissa (@southards_3) March 11, 2016
While filming the police arrest demonstrators, Southards was asked by a Trump campaign member to stop filming. It was apparent that the campaign didn't want video and photos of ziptied protesters on the ground to go viral.
After being escorted outside the Peabody Opera House, Southards documented another arrest on the street. Also, she got footage of a bloodied protester receiving medical attention.
Arrest outside pic.twitter.com/GgD4fAwhSS

— Marissa (@southards_3) March 11, 2016
Protestor receiving medical attention. pic.twitter.com/xGNVLgXzrm

— Marissa (@southards_3) March 11, 2016
While the main story is on the protests that shut the Trump rally down for at least 10 minutes, I think some additional attention should be paid to some of the actual Trump supporters that attended on Friday. We keep hearing that there is this wide coalition of people who are driving the Trump Train, that he's appealing to all kinds of different demographics. (Of course, we usually only hear that from him or conservative pundits.) Yet, Southards captured a bit of footage prior to the rally that feels like a true microcosm of the Donald Trump campaign.
Police had arrested a protester and were walking him down the street in front of a line of rally-goers. While doing so, one especially loud Trumpkin gave us this bit of advice:
This guy though #TrumpRally pic.twitter.com/cfTUHfAVWu

— Marissa (@southards_3) March 11, 2016
In case you don't want to watch the video, a possibly inebriated bro yelled out, "Fuck Islam, Allah's a whore, Jesus is the most high god, and you bitches are done!"
Just a passionate Trump fan wanting to Make America Great Again!