Senate Republicans Beg The American People To Vote Them Out Of Office This November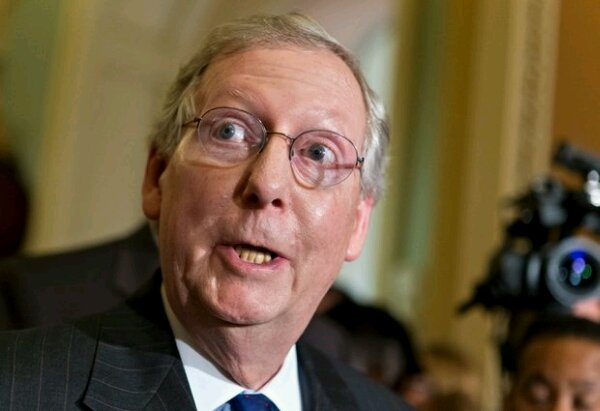 On Tuesday, Senate Republicans dug their hands in their asses and so they could stick their shit-covered middle fingers in the President's face.
After Senate Majority Leader Mitch McConnell (R-KY) met with the GOP members of the Senate Judiciary Committee on Tuesday, the committee members signed a letter stating they will not hold any hearings on a Supreme Court nominee to replace recently deceased Antonin Scalia. McConnell also announced that the rest of the GOP Senate had reached a consensus not to consider filling the vacant seat until after Obama's final term is finished.
According to the human-turtle hybrid, POTUS is all lame-duck and shit, and shouldn't have any say in filling Scalia's seat.
"My decision is that I don't think we should have a hearing. We should let the next president pick the Supreme Court justice…The overwhelming view of the Republican conference in the Senate is this vacancy should not be filled by this lame-duck president."
His Whip, Sen. John Cornyn (R-TX), echoed his sentiments, using the lame-duck phrase and saying the American people need to have the final say.
Of course, recent polls show the vast majority of voters feel that the Senate needs to allow an Obama nominee to have a hearing and potentially be confirmed. Sure, the majority of Republican voters are with them, but not an overwhelming amount, as a recent Pew Research Survey shows 66% agree that the GOP should hold out.
The thing is, this is just a stupid, low-probability gamble the GOP is taking. They have multiple seats up for re-election in swing or blue states during a Presidential election where it is looking more and more likely they will nominate a racist demagogue with super-high unfavorables who will surely push more people to come to the polls simply to make sure he DOESN'T get elected. Specifically, anyone who isn't a white conservative male, since he has pretty much infuriated every other group of people.
Republicans like Mark Kirk in Illinois, Kelly Ayotte in New Hampshire, Ron Johnson in Wisconsin, Rob Portman in Ohio and Pat Toomey in Pennsylvania may have just had their fates sealed with this gambit. The openings left by White House hopeful Marco Rubio in Florida and retiring Senate Minority Leader Harry Reid in Nevada also turned into a lean-blue with this move. (Both were total toss-ups.)
Heck, the combo of this last grand gesture to obstruct the back guy and tossing out an orange monster as the party's standard-bearer could lead to normally safe red seats like Louisiana's open slot (left by diaper-loving David Vitter), John McCain in Arizona, Richard Burr in North Carolina and Indiana's vacancy (Daniel Coats is retiring) to flip blue.
Democrats need only to net five seats in November to retake the Senate (four if they hold on to the White House). Republicans going out of their way on Tuesday to show just how unserious they are about governing, and how they view this as one big game show that's played out on cable news and talk radio, may lead to a big seismic shift.
And instead of a moderate jurist on the bench, which is likely the direction Obama's going with for his nominee, they'll have no choice but to take a true liberal ideologue, and it will be all their fault.