'Morning Joe' Hosts Pat Themselves On The Back Over "Tough" Donald Trump Town Hall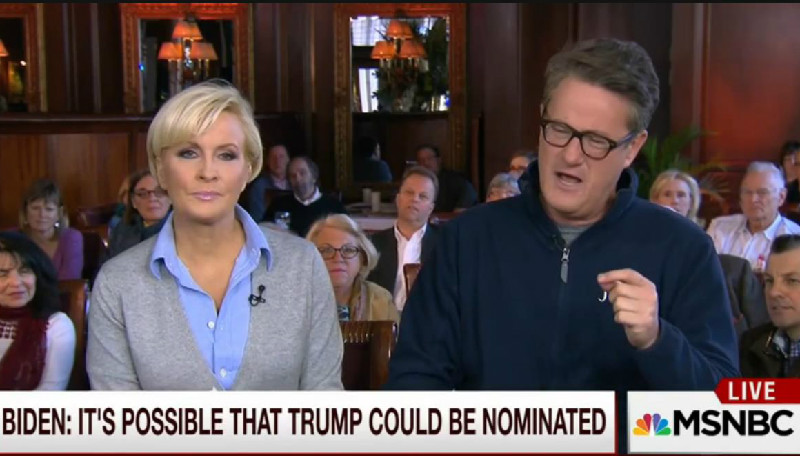 Well, you could see this coming from a mile away.
After receiving criticism from numerous media critics over their Wednesday night town hall with Donald Trump that came across as a primetime infomercial for the candidate, Morning Joe hosts Joe Scarborough and Mika Brzezinski dedicated a segment of their program on Friday to fire back at their haters.
In a very Trumpian manner, Joe and Mika used their forum to both brag about how they were the ONLY ones anywhere who took Trump's candidacy serious, and to take shots at their rivals for their own coverage of The Donald. At the same time, they stated that not only was their hourlong special with Trump NOT full of softballs. but that it was hard-hitting political journalism at its finest.
Making sure they had backup, Joe and Mika had regular panelists Eugene Robinson, Michael Steele and Mike Barnicle on hand to nod approvingly in their direction. The panel all made sure the audience knew that Scarborough was a political genius who has used his unmatched skills to convey what is really going on in this Presidential race, more than anyone ever in the history of the Republic. Or something like that. The pandering was laid on nice and thick.
Both of the hosts wanted to make it crystal clear that they are not in the tank for Trump, with Mika looking like she might burst out in tears while she exclaimed how much she disagrees with the celebrity billionaire ideologically. Meanwhile, Joe just smugly asserted time and time again how much the other journalists and networks suck and that it might just be jealousy over Morning Joe's rising ratings and super-accurate prognostication.
Of course, in saying how they were in front of foreseeing Trump's credible run to the White House, they glossed over their own hand in it. More than any other morning program, and it would appear ANY program on cable news, Morning Joe has mentioned Trump's name. He also has appeared on the program for interviews on a near-daily basis since announcing. In essence, Morning Joe is Trump's Super PAC, giving him free advertising and airtime.
And while Joe continues to claim he isn't riding Trump's jock and calling him daddy, he spent Thursday tweeting insults about the Pope after the former reality TV star got into a tiff with the Pontiff. But, yeah, totally not in the tank for Trump. Not. At. All.
Below is video of the segment, courtesy of MSNBC: