Sarah Palin Does Her Best Sarah Palin Impression While Playing Victim During TODAY Interview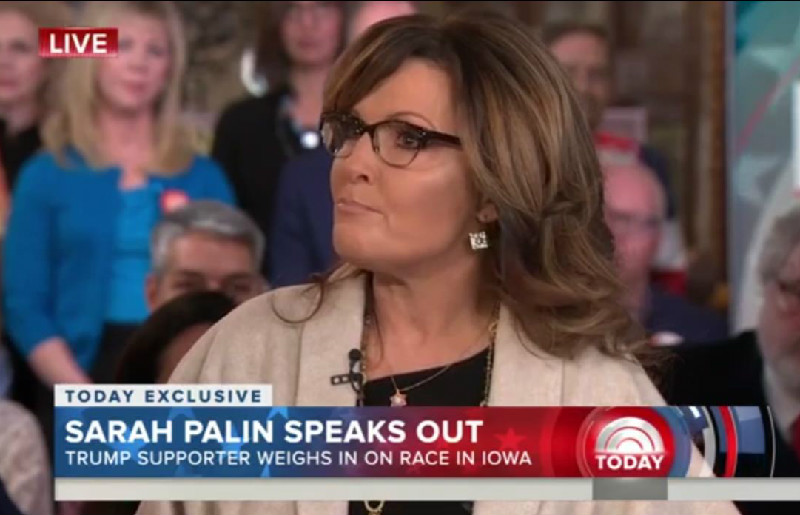 A couple of weeks after Donald Trump brought former Republican Veep nominee and forever grifter Sarah Palin back into our lives, the reality TV star showed up on NBC's TODAY to stump for The Donald on Caucus Day in Iowa. However, as with all things Palin, the interview quickly went off the rails as Mama Grizzly was presented with a 'gotcha' question by the lamestream media.
As many may remember, the ex-Governor of Alaska endorsed Trump for President a day after her son, Track Palin, was arrested for drunkenly beating the shit out of his girlfriend. The following day, Palin addressed the news by doing what she does best — blame Obama. Speaking at a Trump rally, Palin claimed her son was suffering from PTSD and said the President's lack of respect for vets led to issues like what her son was suffering through.
On Monday morning, midway through their sitdown, hosts Savannah Guthrie and Matt Lauer broached the subject, and Palin was all butthurt. See, in her mind, she was promised that they wouldn't bring up anything other than Trump and the Iowa caucus, and she was once again the victim of the LIBRUL media.
Following a question from Guthrie where Palin was asked about her blaming Obama for her son's PTSD, Palin's goofy smile quickly left her face as she went on the attack:
"I never said that. You guys brought me here to talk about Iowa politics and the caucus tonight, not to talk about my kids. And that was a promise. But as things go in the world of media, you guys don't always keep your promises, evidently. I never blamed President Obama."
She then berated Lauer and Guthrie for not having the exact quote on hand and reading it back to her, even though her appearance was widely covered and criticized for her tying Obama to her son's arrest. Palin questioned their credibility for not giving her the specific sentence where she blamed Obama. Lauer followed up by telling the one-time Mayor of Wasilla that they never gave her a promise over the interview's content.
"In terms of credibility, there were no promises made about content of the interview. Only that this would be your first interview since you endorsed Donald Trump."
Palin then barked that she was told the interview was about Trump and the caucus. (Considering she used a Trump rally to address Track's arrest and bring up Obama, I'd say this question actually revolved around the candidate, his campaign and the caucuses.)
Anyway, there is one way the media can deal with Sarah Palin — DON'T BRING HER ON!
Below is video of the interview, courtesy of NBC:
Watch @SarahPalinUSA speak out on TODAY in exclusive interview. #IowaTODAY https://t.co/Kbol2A7w9x

— TODAY (@TODAYshow) February 1, 2016