Marco Rubio Can't Be Bothered With Unimportant Issues Like The Flint Water Crisis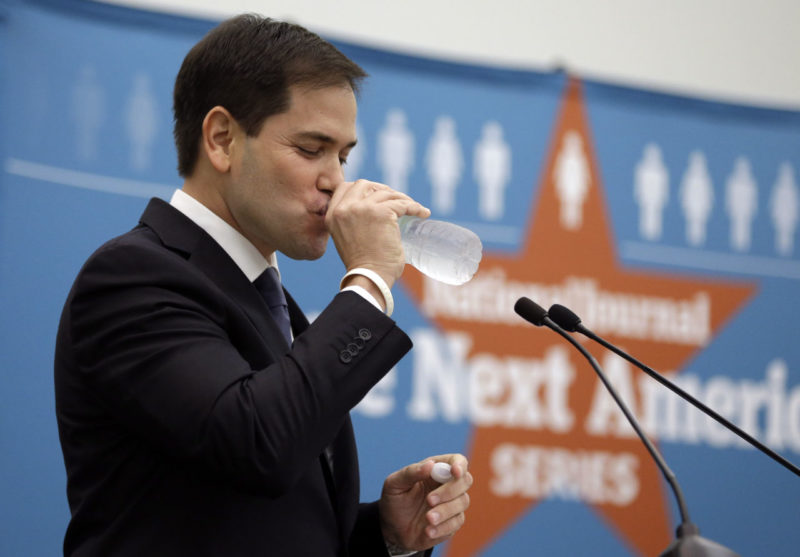 During Sunday night's Democratic debate, both Hillary Clinton and Bernie Sanders spoke at length about the ongoing water crisis in Flint, Michigan. Clinton highlighted that the state's Governor, Rick Snyder, had been aware of high levels of lead in the city's water supply as early as September yet did nothing about it. Sanders repeated his previous call that Snyder should resign due to helping cause the situation and his inaction after learning about the lead contamination.
Meanwhile, Republican candidates had been largely quiet over the story, which had gotten national attention after MSNBC's Rachel Maddow placed much-needed focus on it. Finally, on Monday night, one GOP White House hopeful commented on the crisis after a Michigan reporter confronted him on it.
Asked about his reaction to Sanders and Clinton's comments at the debate on the matter, Marco Rubio responded by saying that he hadn't watched the Sunday night broadcast so he couldn't comment on it. The reporter then pushed further, questioning Rubio on his feelings about the disaster and what he thinks should be done. In response, the Florida Senator essentially went ¯\_(ツ)_/¯ .
"That's not an issue that right now we've been focused on and for me to give you a deeply detailed answer on what the right approach should be on it, other than to tell you in general I believe that the federal government's role in some of these things is largely limited unless it involves a federal jurisdictional issue.
So, I'd love to give you a better answer on it, it's just not an issue we've been quite frankly fully briefed or apprised of, in terms of the role the governor has played and the state has played in Michigan on these sorts of issues."
Translation: I really couldn't give two shits about this because it has no bearing on the GOP primary. Also, my pat answer is going to be that I don't want the federal government to get involved because conservatism. Finally, Snyder is a Republican, so I ain't talking shit about him until a bunch of other Repubs get on the hate train.
Back in the real world, the Obama Administration has declared a federal emergency in Flint and has approved $5 million in aid right now. Snyder is asking the President to call this a federal disaster — usually reserved for natural events like hurricanes, tornadoes or floods — so an additional $96 million can be made available. Meanwhile, Snyder is looking down the barrel of a class action lawsuit from the residents of Flint. 
But keep your heads in the sand, Rubio and Co. Worry about the real problems confronting this country, like political correctness and the need for more AR-15s to take down ISIS here at home.
Image via AP