Back Against The Wall: Hillary's In Trouble And She Knows It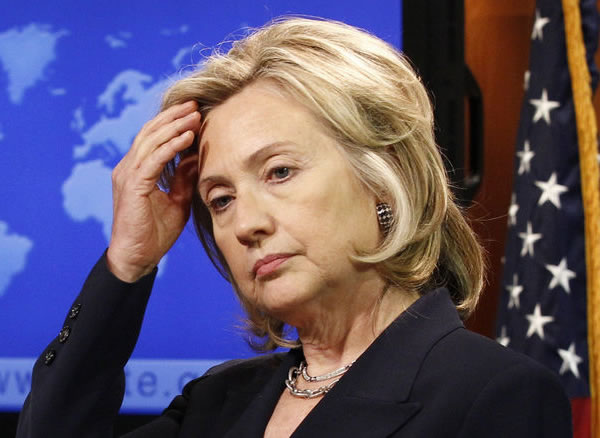 If there's one political truth we've learned, it is this: never count Hillary Clinton out of the game. But there's also a subtle asterisk applied to that axiom. It first entered national consciousness in 1993 when the former First Lady, Secretary of State and New York Senator failed to win comprehensive health care reform. It's obviousness compounded during Clinton's failed 2008 bid for the Democratic presidential nomination. And it's rearing its head again during the final 2016 primary runup. Never dismiss Hillary. But if you're a supporter and you see her start to sweat, be afraid.
Much armchair quarterbacking after last night's Democratic debate has focused on the perceived "win" by Independent Vermont Senator Bernie Sanders. New York Times writer Alan Rappeport produced a punditry rundown of post-forum soundbites that seem to favor the finger-wagging populist. However Jason Johnson, political science professor at Hiram College and politics editor at The Root really hit on the "uh oh" factor with this tweet:
"If Hillary hugged #Obama any tighter tonight Michelle would've had to step in #Demdebate"
It's fair to say that Clinton did not run from the two-term Obama record Sunday night. On issue after issue, in drawing contrast between what she hopes voters will view as the more radical, impractical positions of Sanders, Hillary's stance was essentially, "I plan on building upon what President Obama did." (Side note: it kills me to agree with Chuck Todd). What a difference a few months makes.
In late October 2015, writer Ruben Navarrette Jr. observed:
"As Clinton runs for president, she is…sprinting away from major elements of Obama's record. It's happening on deportations…And it's happening with foreign policy, where she continues to argue that the administration's failure to back the Syrian rebels created the opening for the emergence of the Islamic State."
Now as Sanders pulls into a virtual-dead heat with Clinton, in early primaries as well as national polling, the queen of reinvention, the Madonna of Capitol Hill, is evolving once more. Suddenly Barack Obama is a pragmatist whose policies, such as Obamacare, need protection from the firebrand destruction of Sanders. And Hillary is the only who can do it – while beating any Republican opponent with one hand tied behind her back.
It's easy to see why this strategy is appealing. Bernie's numbers are climbing. He picked up more Twitter followers during the last GOP debate than any of the actual Republican candidates. The once-invincible Clinton is suddenly looking awfully vulnerable. Sanders has the social justice buzz that propelled Barack Obama to victory in 2008. It's a credit to Hillary that she's held up this well under the deja vu of it all. She and Sanders have been historically graceful and polite in their disagreements, but his momentum has backed her into the uncomfortable, offensive corner reserved for the "safety" candidate. And it's not wearing well.
Her attempt to portray Sanders' support for universal health care ("the public option") as somehow regressive is confusing at best – as well as ineffective. The harder she tries to position Sanders as "other," the closer she pushes him to an overwhelming majority of voters on both sides of the aisle screaming for change. As Chris Cillizza of The Washington Post said of Bernie's latest debate performance: "Sanders effectively positioned himself as the anti-status quo candidate, a very good position to have in this electoral environment."
With less than two weeks left before the Iowa caucuses, Hillary Clinton is clearly rattled. It's evident in her sudden barnacle-like suction to an Obama record she once spoke of with remote aloofness. It shows in her strange new attack strategy. As Evan McMorris-Santoro of BuzzFeed wrote, "Hillary Clinton, who just a few weeks ago was notably not mentioning her rivals for the nomination on the campaign trail, now talks about Sanders all the time."
The cool customer who testified before Congress, delivering smooth rebukes while wearing concussion glasses, knows that this might well be her final political shot. If she fails to deliver the Democratic nomination, her only remote option would be to make like Salmon P. Chase and get nominated to the Supreme Court. Time is running out. When Hillary Clinton gets nervous, we're wise to pay attention.