Woman Who Cheated On Her First Husband Criticizes Another Woman's Marriage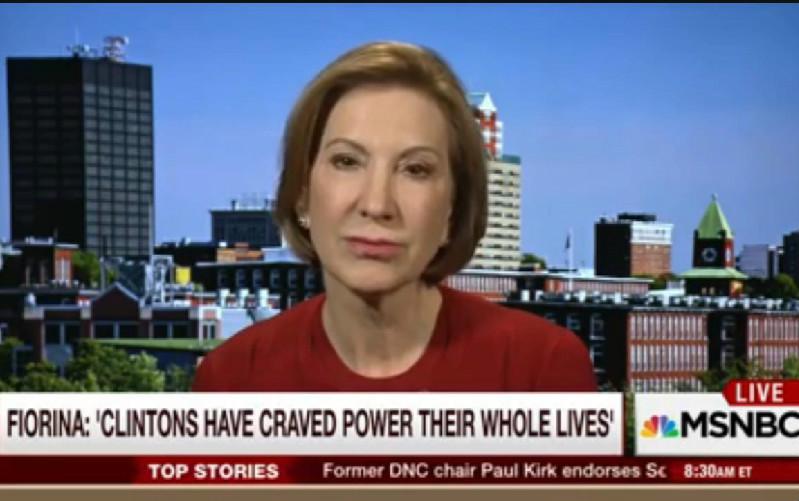 If you happened to watch Thursday evening's undercard GOP debate — chances are you didn't — you would have seen fired Hewlett-Packard CEO and soon to be former Republican Presidential candidate Carly Fiorina using some of her time to attack Hillary Clinton's marriage. In an obvious attempt to jumpstart her moribund campaign, Fiorina has decided to personally attack Hillary by claiming the Clintons don't love each other, and she wouldn't have dealt with Bill's infidelities.
During the debate, Fiorina turned heads when she said that, unlike Mrs. Clinton, she actually loves her (second) husband. Pressed on this by MSNBC's Chris Matthews shortly after the debate, the failed Senate candidate just smugly repeated that the couple had been married a long time, but she wouldn't comment on their personal feelings towards each other. This led to an uncomfortable exchange between the two.
The following morning, Fiorina appeared on Morning Joe, and was once again grilled on this by the panel. The low-polling White House hopeful did what she does best, which is present herself as the perpetual victim while snidely tossing out more vicious rhetoric. In this instance, she said that she's been the target of harsh attacks and that if she were Hillary, she would have left her husband a long time ago.
Panelist Mike Barnicle told Fiorina that her comment came across as "mean spirited" to many watching. She followed up with a complaint that she's had many mean things said about her and that the Clintons just crave power, so it's totally cool to rip into both of them on a personal level. Huffington Post report Sam Stein wondered what the couple's hunger for power had to do with whether they loved each other or not.
Below is Stein's tweet showing the exchange between the two:
Fun exchange with Carly Fiorina this morning pic.twitter.com/AEk3Lhu27x

— Sam Stein (@samsteinhp) January 15, 2016
Of course, Carly should have experience when it comes to cheating on spouses. According to her first husband, Todd Bartlem, their marriage fell apart when she started an affair with her current husband, Frank Fiorina. Todd and Carly were divorced in 1984, but it appears that Frank and Carly were seeing each other as early as 1980. It also looks like Carly was the other woman, as Frank filed for divorce from his previous wife in 1981.
But, go ahead and moralize about the Clintons' personal lives, Carly. Maybe it will help you to reach as high as 7th place in the New Hampshire primary.
Below is video of the Morning Joe segment, courtesy of MSNBC: