Man Scared Of 5-Year-Old Syrian Orphans Claims He Has A Great Bond With Muslims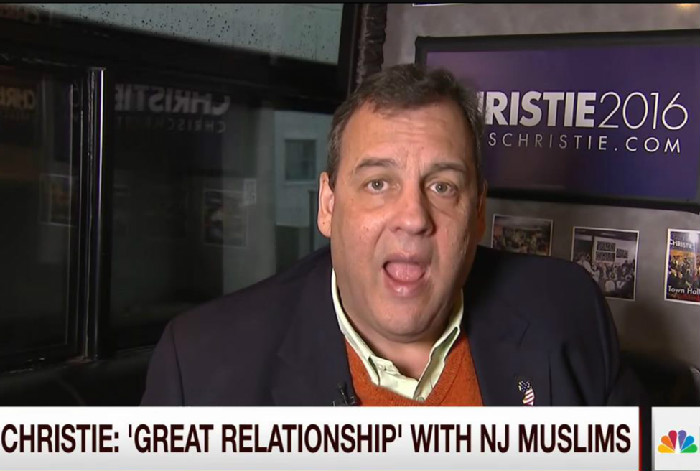 Over the years, Republican Presidential candidate and New Jersey Governor Chris Christie has had a very cozy relationship with Joe Scarborough and Mika Brzezinski of Morning Joe. Well before he ever announced his intentions to run for the White House, he was making regular appearances on the show, receiving loving tongue baths from the two hosts, who described him as a close friend. Even when the Bridgegate scandal hurt his standing in his home state, and other MSNBC programs were hammering him, Christie could always rely on Morning Joe to have his back.
So, while Christie finds himself in the bottom-tier of GOP candidates, he still finds himself able to get copious amounts of free airtime thanks to his buddies. (To be fair, Christie also appeared on CNN's morning show New Day.) On Tuesday morning, the former federal prosecutor — if you didn't know he was one, just wait two minutes, he'll tell you about it — sat down for a lengthy interview with the MJ panel. Filming from his campaign bus in New Hampshire, Christie touched on a few different subjects, such as Vladimir Putin, Marco Rubio's lack of campaigning and his chances in the 2016 election. He also discussed rhetoric aimed at Muslim-Americans in the wake of terrorist attacks abroad and at home.
Speaking to panelist Mike Barnicle, Christie mentioned that he has a "great relationship" with Muslims in New Jersey. He pointed out that the state has the second largest Muslim-American population in the country and he has made great inroads with the community as governor of the state. At the same time, he highlighted his time as a federal prosecutor (drink!) and said that you need to make a distinction between "peace-loving Muslim-Americans" and "radical Islamic jihadists."
Of course, his statements regarding his bond and relationship with Muslims in New Jersey are meant as a counter to Donald Trump's comments about seeing "thousands and thousands" of Muslims cheering in the state on 9/11. And that's well and good. However, Christie pandering to Muslim-Americans seems to run contrary to his remarks on Syrian refugees weeks ago. In an interview with conservative radio host Hugh Hewitt last month, Christie said he wouldn't even allow 5-year -old orphans in from Syria, stating that he has no trust in the Obama Administration to properly vet them. 5-year-olds, dude. 5-year-olds.
Chris Christie, friend to Muslims around the world. Unless they are radical Islamic orphans.
Below is video of the segment, courtesy of MSNBC: