Ted Koppel On 'Meet The Press': Donald Trump Is The "Recruiter-In-Chief For ISIS"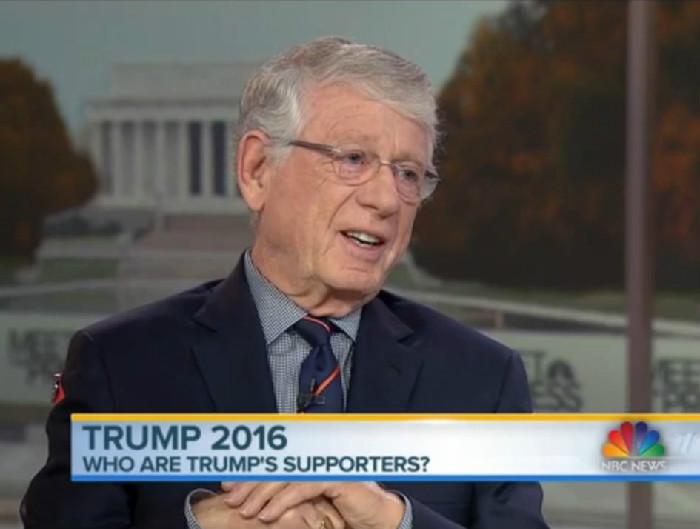 While Republican Presidential candidate and Biff Tannen impersonator Donald Trump was giving interviews to two other Sunday shows, NBC's Meet the Press had a panel discussion over the celebrity billionaire's latest round of controversial remarks. In case you've been in a coma or living in a cave, Trump enraged millions of Americans — while delighting millions of others — last week when he demanded that the United States place a total and complete ban on all Muslims entering the country. Since then, polls have shown that the majority of Americans disagree with this idea, but GOP voters are pretty much for it.
Speaking to MTP host Chuck Todd about GOP demographics and Trump's supporters, veteran news reporter Ted Koppel expressed his feelings about The Donald's faux tough talk about ISIS. After listening to a debate about whether or not Trump is appealing to voters who are moderate or conservative, Koppel stated that what he finds ironic is that the reality TV star's fans believe that his rhetoric hurts ISIS and extremism when it is really the opposite.
"But the irony is they think they're being tough on ISIS and Trump thinks he's being tough on ISIS. Senator Rubio in his interview with you touched on it very, very lightly. Donald Trump is, in effect, the Recruiter-in-Chief for ISIS. ISIS wants nothing more right now than to have the world divided into Judeo-Christian on one side and the Islamic world on the other. That's exactly what Trump is doing for them. I think it's time we start with thinking about what ISIS wants and then not doing it."
Koppel is absolutely right, and this is something that others have been stating over and over again, hoping to get the media and Republican voters to realize the dangerous territory we are wading in. By demonizing and alienating an entire religion, a religion that has 1.6 billion adherents, the United States risks radicalizing many, many, many people and essentially doing ISIS's job for them in terms of recruitment. But fear, hatred and anger are easy to sell. Critical thinking and nuanced reasoning don't go over to well in Trump Land.
Below is video of the segment, courtesy of NBC News: