With Poll Numbers Scraping The Bottom, Rand Paul Tries To Whine Himself Into CNN Debate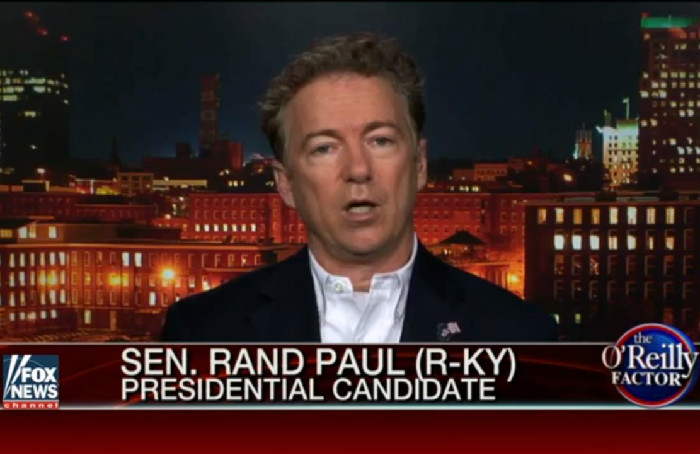 It is looking more and more likely that, based on aggregated poll numbers, Republican Presidential candidate Rand Paul is not going to be featured on the main stage of next week's GOP debate hosted by CNN. According to the rules laid out by the network, for a candidate to be included in the upper-card debate, that candidate must average 3.5 percent nationally in the polls, or be at or above four percent in either Iowa or New Hampshire. Paul is nowhere near those numbers in national surveys, and is at 3.5% in Iowa, with additional polls forthcoming.
The Kentucky Senator appeared on Fox's The O'Reilly Factor Friday night to discuss the War on Terror, Donald Trump and his own campaign. Towards the end of his interview with guest host Eric Bolling, the struggling Tea Party candidate said that he hoped CNN would amend their rules to allow him on the stage because he felt he deserved to be featured in primetime and not at the kiddies table. He then mentioned GOP opponent Carly Fiorina, who was moved up to the main stage by CNN in September after an impressive showing in the undercard debate the month before.
"We think if they give us the same treatment that Carly Fiorina was given last time, that you measure from debate to debate, that we do meet the criteria," Paul whined to Bolling during the show. "I have every expectation that I will be treated fairly. But I want the same and equal treatment that other candidates have gotten in the past. We have a first-tier campaign and we don't plan on being labeled by the mainstream media anything less."
You have to hand it to Paul — that is some first-rate, grade-A whine. You also have to like how he threw Carly under the bus in order to guilt CNN into letting him remain with the big boys. Nothing says 'presidential' like a petulant loser complaining about how he needs to be treated fairly.
Paul isn't the only one who might potentially be shuffled down card. Carly Fiorina is dangerously close to getting left off herself if she sees a dip in any New Hampshire polls. Right now, her average is 4.3% in New Hampshire and under 3% in Iowa and nationally. If any weekend surveys show her at 3% or below in the state, it could push her average down to force her to the happy hour debate with Rick Santorum, Mike Huckabee, Lindsey Graham and George Pataki.
Meanwhile, even though both men are polling beneath 3% nationwide and aren't doing well in Iowa, Chris Christie and John Kasich will both be in the main debate on Tuesday. The two governors are doing fairly well in New Hampshire, as both are polling around 8% in the state.
Below is video of the Fox interview with Paul: