Huckabee Wants Obama To Revoke Iran Deal After Paris Attack Even Though Iran Is Fighting ISIS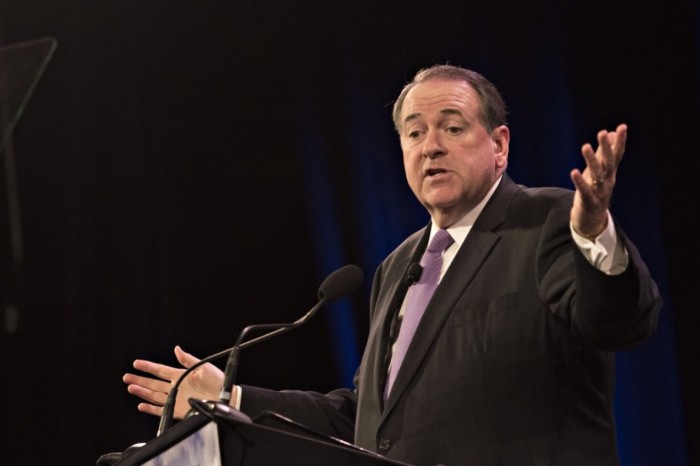 Unfortunately but unsurprisingly, shortly after France was the victim of a heinous terror attack that killed over 120 people, pretty much every Republican seeking the White House took advantage to criticize President Obama for ignoring radical Islamists as well as to bolster their super-tough badass Muslim killing credentials. Joining in the cacophony was former Arkansas Governor and virtually ignored Republican Presidential candidate Mike Huckabee.
With ISIS claiming they are responsible for sending eight suicide bombers to detonate bombs and shoot up numerous establishment in Paris Friday evening, Huckabee released a list of demands to Obama, stating that the President needs to realize that with a "threat to western civilization." He also reprimanded Obama for saying that ISIS had been contained after the United States confirmed that ISIS executioner 'Jihadi John' had been killed in an air strike. It has also been noted that ISIS's territorial control has been reduced recently.
However, in a blatant attempt to get media attention and appeal to those who conflate all things Muslim, Huck not only called on the President to refuse admittance of all refugees — you know, people FLEEING from ISIS — but also said that the country should revoke its nuclear deal with Iran. This despite the fact that Iran is actually fighting the Islamic State. 
1. Close our borders instead of Guantanamo.
2. Institute an immediate moratorium on admission to those persons from countries where there is strong presence of ISIS or Al-Qaeda.
3. Build a coalition that will include NATO, Russia, and nations of the Middle East to aggressively destroy ISIS. Nations who refuse to participate will be sanctioned and isolated.
4. Revoke any agreement with Iran regarding their nuclear capacity. Radical Islamists, whether Sunni or Shia, are a clear and present danger to civilization.
Look, you can be wary of Iran's intentions when it comes to fighting ISIS and its involvement in Syria. That is understandable. And the right has already let their issues with the Iranian nuclear deal be known for quite a while. But to use one tragedy to ignorantly push for something else that will have wide-ranging repercussions and lead to even more destabilization in the region is stupid beyond belief. Especially when that country is actually opposed to the group that is claiming responsibility for the viciously bloody attack that is getting your hackles all raised.
Thankfully, we'll never, ever, EVER have to worry about Huckabee being President or even being in any position of real power. He'll just be like the vast majority of us — talking shit from the sidelines.