Due To Chuck Todd And 'Morning Joe,' MSNBC Finds Itself In Last Place Among Younger Viewers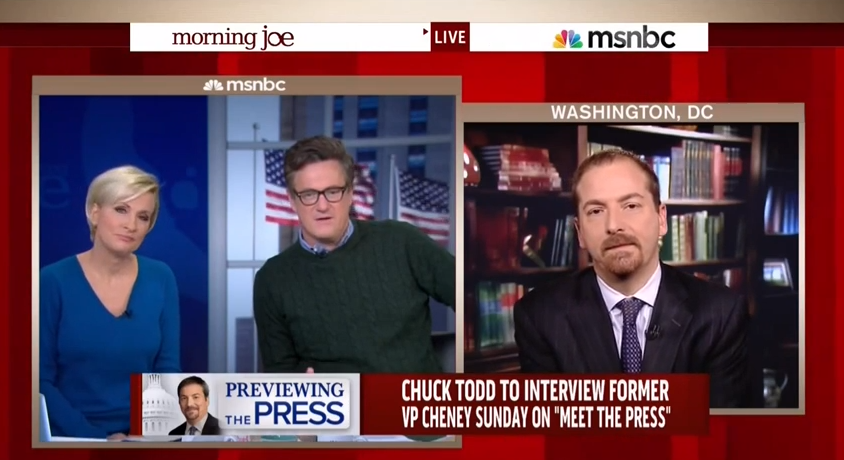 On Tuesday, all of the major cable news networks released statements hyping up this month's ratings in comparison with October 2014. For the most part, Fox News, CNN (and its sister network HLN) and MSNBC all had at least some good news worthy of boasting. CNN, due to the huge numbers it saw in the first Democratic primary debate, saw its ratings climb an amazing 101% compared to this time last year. Fox News, while seeing a slight decrease in both the 25-54 demo and overall viewership, could at least highlight increases for individual programs and point out that it is still top dog. Even HLN could brag about increases in the younger demo.
Meanwhile, MSNBC seemingly had a decent amount to crow about, as they saw an increase of 26% in overall viewership. The growth carried over into their primetime lineup with those shows up 26% as well. However, as we all know, there is truth in numbers, and there is truth behind the numbers. While the network crowed about the increases across the board compared to October of last year, a troubling pattern could be seen. And it is one I am sure the network chiefs are well aware of, hence the musical chairs occurring in the weekday lineup over the past few months.
While the channel saw some decent increases in most of its programs, MSNBC was still dead last in the 25-54 demographic, placing behind even HLN. For the total day audience in the month, MSNBC averaged 87,000 in the demo, which is 29K less than HLN and a fraction of what Fox News (197,000) attracted. While they jumped ahead of HLN in primetime in the demo, 134K to 99K, they were still FAR behind CNN and Fox News, as those two networks pulled in 304,000 and 299,000, respectively.
Are there any particular programs that seem to be hurting the network in this demographic that is most important to advertisers? Why, yes, yes there are. Considering that MSNBC is seen as the 'progressive' channel, it shouldn't come as any surprise that the two shows that seem to be struggling most with younger viewers are headlined by Joe Scarborough and Chuck Todd. Yep, Morning Joe and MTP Daily, which premiered right before October, are just getting killed in the demo.
For the past 16 months, Morning Joe has found itself mired in last place in the demographic, seeing itself beat by both CNN's New Day and HLN's Morning Express with Robin Meade. In fact, Meade just extended her winning streak in the demo to 18 months. Sure, Morning Joe regularly beats Meade and New Day in total viewers and finishing a distant second to Fox & Friends, but it is obvious that senior citizens make up the bulk of its audience. (This has been something of a sore spot for Scarborough for a while now, especially when CNN brags about it.)
As for Todd, he was brought in to improve on the low ratings, specifically among young viewers, that had plagued Ed Schultz ever since his program was shuffled around and stuck in the 5 PM ET slot. Unfortunately for MSNBC, MTP Daily has been a ratings sinkhole. The program has routinely placed in third in its timeslot. While that is understandable, it is how dismal he is doing in the demo that should be really concerning, especially since he is a known commodity. Last Tuesday, he pulled in an abysmal 40,000 viewers in the demographic. That placed him 26K behind HLN. CNN's Wolf Blitzer, suffering one of his worst recent days in the demo, was still 52,000 above Todd.
While that is a bit of an extreme example, the fact remains that Todd regularly gets his ass beaten by Wolf in the demo and struggles to keep pace with him in total viewers, despite the fact that the rest of the MSNBC primetime lineup easily beats CNN in overall audience. Remember, this is the guy that NBC News is trusting to host its venerated Sunday show, Meet the Press.
It is admirable that MSNBC is trying to restructure to network to focus on more 'hard news' and less on liberal political opinion. That is why they gave the ax to Ed Schultz, Alex Wagner, Joy Reid, Ronan Farrow and The Cycle while exiling Al Sharpton to Sunday mornings. However, making the conservative-skewing Morning Joe your daytime centerpiece and bringing back Mr. Both Sides Do It to start off your weeknights is only going to turn off any potential millennials you were hoping to attract.