CNN Contributor Says Female Student Deserved Beating From Cop Because "She Had No Respect"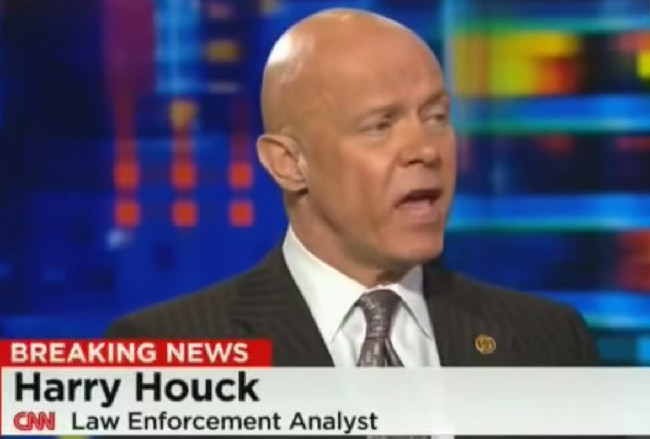 A day after news broke of a large South Carolina police officer violently slamming a young female high school student to the ground while arresting her in a classroom, CNN analyst and forever police violence apologist Harry Houck took to the air to defend the cop's actions. A short video taken of a young woman being viciously beaten by Officer Ben Fields went viral Monday after New York Daily News columnist and Black Lives Matter activist Shaun King posted it to his Twitter account. The clip sparked tons of outrage, especially among those associated with BLM.
Speaking to New Day host Chis Cuomo Tuesday morning, Houck went out of his way to not only paint the cop's violent actions as appropriate but to also place all the blame on the young girl who was flung around like a rag doll by the weightlifting Fields. Per Houck, the officer clearly did everything by the book in terms of trying to remove a student who had been disruptive in class. Because, as we all know, being an ass to a school teacher should automatically lead to body slams and forceful arrest.
From the transcript of the show, courtesy of Media Matters:
CHRIS CUOMO: Give me the best defense for what this guy is doing, in these circumstances.
HARRY HOUCK: OK, first of all let me tell you, there's a police officer in that school for a reason. A lot of violent gang activity in that school. Now, this officer's called to the classroom because this student will not leave the classroom. Apparently the teacher had some kind of a problem. Now, a teacher is supposedly trained on how to handle children like this, calls the police, for the officer to come in. The officer tells her twice to get out of the chair. She won't get out of the car – out of the chair, all right? Therefore, we have this altercation, which she does not get really hurt in. The officer pulls her out, handcuffs her, all right, and that's it. Can the officer do that? Yes, he can do that.
CUOMO: Why?
HOUCK: Because you failed to comply, you are under arrest, you are failing to comply now. So the officer can use whatever force is necessary to affect an arrest. Now, it looks really bad. Like a lot of videos we've sat here and talked about before in the past, how bad the video looks. She did not get hurt, all right. So apparently the officer did it in a way where she could not get hurt. It just looks bad in the video.
After guest Marc Lamont Hill objected to Houck's characterization of the events that occurred and the officer's right to be a brutish enforcer to a teenage girl, Houck not only doubled down but he also made sure to say that the girl likely had a shitty home life and that she doesn't have respect for anyone or anything. Essentially, he said that black bitch deserved what came to her.
"Here's the problem. This is a failure to comply again. Like in all these cases here, people don't listen to the police when they're giving them a command. You must comply. And then Marc's — Marc's giving people the impression that you don't have to comply to police officers. And that's why we're having a lot of incidents. You're giving that impression, Marc, every time I speak to you. You always have a problem, you know, talking about an officer's use of force. And I'm telling you, it's as a result of a failure to comply. If that girl got out of the car — got out of the seat when she was told, there'd be no problem. But apparently she had no respect for the school, no respect for her teacher, probably has no respect at home or on the street, and that's why she acted the way she did."
This is pretty much Houck's MO. He goes on CNN after an incident where law enforcement acts inappropriately against people of color and he both defends the police and places all the blame on the victims. He's done it multiple times with Michael Brown, not to mention claiming that Sandra Bland is dead because she was far too uppity. This is just who he is, which is to say the worst.
Below is video of the segment, courtesy of Media Matters: