Tony Blair Admits He And George W. Bush Are Pretty Much Responsible For The Rise Of ISIS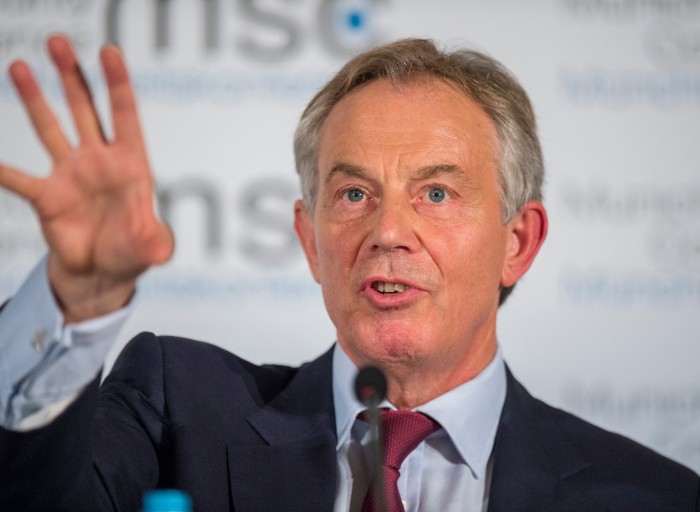 In an interview that will air Sunday on CNN's Fareed Zakaria GPS, ex-British Prime Minister Tony Blair copped to the fact that the Iraq War, which he and former President of the United States George W. Bush pushed for, had at least some role in the rise of the Islamic State. Blair did state that he will not apologize for helping remove Saddam Hussein from power, and he did what he thought was right at the time. However, he did say that he felt there were mistakes in intelligence that could have prevented the two leaders from deciding on an invasion.
In regards to the apparent bad intelligence Britain and the US received regarding Iraq's supposed stockpiling of WMDs or its involvement in 9/11, Blair told Zakaria the following:
"I can say that I apologize for the fact that the intelligence we received was wrong because, even though he had used chemical weapons extensively against his own people, against others, the program in the form that we thought it was did not exist in the way that we thought."
He also told the host that he apologizes for any mistakes that occurred in planning the invasion and what would happen when Saddam's regime was toppled. At the same time, he still patted himself on the back for helping remove the dictator, saying the country was better off with the ex-leader dead.
Having said that, Blair did admit that ISIS probably wouldn't be such a force today if the coalition hadn't created such turmoil in Iraq, saying there were "elements of truth" to those claims from critics.
"Of course, you can't say that those of us who removed Saddam in 2003 bear no responsibility for the situation in 2015. But it's important also to realize, one, that the Arab Spring which began in 2011 would also have had its impact on Iraq today, and two, ISIS actually came to prominence from a base in Syria and not in Iraq."
After CNN released excerpts from the interview, many took to Twitter to hammer Blair for his kinda, sorta apology.
Tony Blair's 'apology' is still an act of deceit about the 'intelligence' he fabricated, not 'received' https://t.co/phVtbS6qTa

— Dr Nafeez Ahmed (@NafeezAhmed) October 25, 2015
Tony Blair "to express regret"… How is he not convicted of war crimes yet? That is what I want to know. https://t.co/Y9n5yEqH7e — Susan Potter (@SusanPotter) October 25, 2015
Apologises don't cover up for the mistakes you commit and most importantly the laws you violate. Trial tony Blair for war crimes.

— Mohsin (@excogitate123) October 25, 2015
Too little too late? Tony Blair says he's sorry for Iraq War 'mistakes,' but not for ousting Saddam. pic.twitter.com/9gvGkJbNvp — Anushay Hossain (@AnushaysPoint) October 25, 2015
CNN will also be airing a special program regarding the lead up to the war on Monday evening.