While Stars Like Tom Hanks And Mark Ruffalo Support Bernie And Hillary, Jeb! Has Toby Keith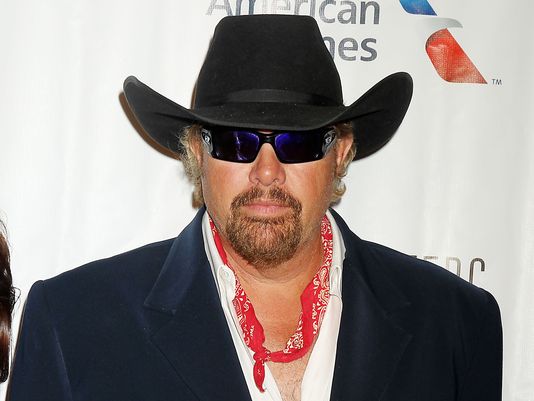 It comes as no surprise that the majority of Hollywood actors and big-name entertainers who support political candidates tend to open their pocketbooks to Democratic candidates. It has pretty much always been that way, and always shall be. People who consider themselves 'artistic' tend to lean left, and there are no liberals, or even moderates, residing in the Republican Party these days. Therefore, Dems can always rely on some award-winning actor or arena-filling musician to toss some bucks towards the party, or even better, host a fundraiser.
On Monday, The Hill published a list of entertainers who have donated to Presidential campaigns so far this election cycle, and as expected, the GOPers found themselves lacking in celebrity love. Both Hillary Clinton and Bernie Sanders saw support from many superstars, with Hillary arguably getting the biggest rub from the limousine liberal crowd, as Michael Douglas, Geena Davis, Tom Hanks and Matt Damon have all contributed to her campaign. However, Bernie does have some big-league hitters on his side, with Mark Ruffalo and Danny Devito among those writing checks.
On the flip side, one has to dig pretty deep to find any well-known celebs willing to give their cash to Republicans. Amazingly, GOP frontrunner and celeb in his own right Donald Trump so far has no entertainers willing to publicly back him at this point. (Tom Brady has pointed out that his 'endorsement' of Trump was mostly a joke.) I'm guessing former Apprentice contestants don't count, or they haven't actually donated anything to The Donald's campaign. To be fair, the real estate mogul has stated that he is going to self-fund his White House run. [ETA: Apparently, actor Anthony Mackie said that he is on the Trump "bandwagon" and is "drinking the Kool-Aid!"]
As for Ted Cruz, he has the backing of Clint Howard, most known for being director Ron Howard's brother and the recipient of nepotistic supporting roles in his bro's films. Marco Rubio has apparently received a donation from 87-year-old actor Orson Bean. (Yeah, I had to look him up, too.) Finally, you have Jeb Bush, who really brings home the celeb endorsements, as he picked up the support of 'Courtesy of the Red, White and Blue' singer Toby Keith. The country singer famously feuded with the Dixie Chicks over their comments about Jeb's brother during the early days of the Iraq War.
Obviously, celebrity endorsements don't mean a goddamned thing in the long run. We all know that Democrats will get the 'cool' folks to stand up and champion them, especially during general elections. However, it is still fun to mock Republicans for the D-listers that they inevitably tout during campaign events and in ads.
Image via USA Today