John Boehner Wept Like A Little Baby While Standing Next To Pope Francis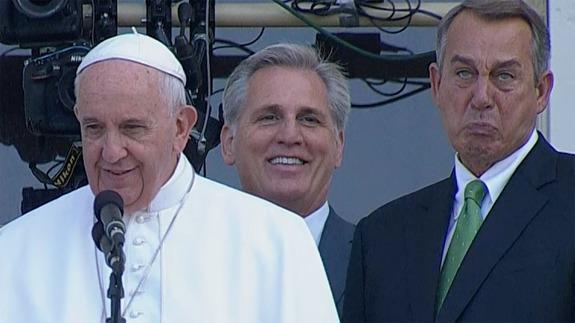 Pope Francis continued his visit of the United State on Thursday by speaking in front of a joint session of Congress. Both during the speech and while the pontiff waved to the gathered crowd outside on Capitol Hill, Speaker of the House John Boehner (R-OH) just could not compose himself. The Catholic conservative was just some moved by being in the presence of the pope that he openly wept numerous times. Of course, it isn't like Boehner doesn't have a history of crying in public.
Anyway, let's take a look at some footage of Boehner making weepy faces while near Pope Francis.
I'll watch it all. day. long https://t.co/NaYxyKF9Hd

— Brian Ries (@moneyries) September 24, 2015
Pull it together, John Boehner http://t.co/RSlhbfydGi pic.twitter.com/2OVsLBInLP — Kate Sommers-Dawes (@TheRealKSD) September 24, 2015
Why is @johnboehner always crying? pic.twitter.com/XM5tM3KRHM

— Steve Goddard (@SteveSGoddard) September 24, 2015
The pope is addressing congress. John Boehner is already crying. [Not Photoshopped] @MichaelBerrySho pic.twitter.com/PRtunwcAuM — TexasTsunami (@TexasTsunami) September 24, 2015
Remember, John. Real men do cry. Real men DO CRY.
As for the speech, conservative pundits were pissed off that Pope Francis didn't talk enough about abortion and discussed the need to be compassionate with immigrants, but were at least relieved that the hippy-dippy Catholic leader didn't bring up climate change in his address.