Jeb Bush: When I Mention Anchor Babies, I'm Really Referring To Asians, Not Latinos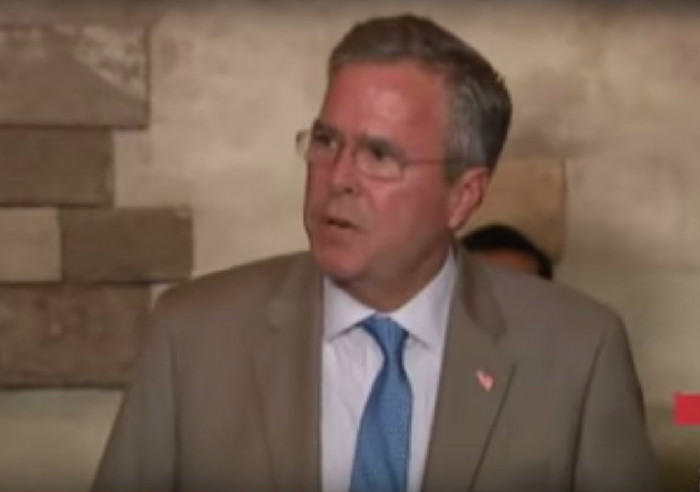 Well, former Florida Governor and thought-to-be least dumb Bush progeny Jeb Bush continued his efforts to try to offend every single person in America on Monday. While speaking to reporters in Texas, Bush attempted to explain his use and defense of the offensive slur "anchor baby" while out on the campaign trail earlier this month. During his Monday meeting with the press, Bush stated that the term doesn't really apply to Latinos, but instead it was "more related to Asian people."
Below is video of his remarks:
Bush also railed against "political correctness" when speaking to the media because that's what you now have to do if you are a Republican.
If you're keeping tabs at home, over the past few weeks Bush has claimed that we spend too much of women's health, used the word "anchor baby" multiple times and called the Black Lives Matter movement nothing but a slogan. Apparently, he felt that Asians were getting a free pass and didn't want them to feel left out.
Reaction on Twitter was swift, harsh and occasionally hilarious.
"NO NO IT WAS THE ASIANS I WAS TALKING ABOUT" is pure Selina Meyers http://t.co/QHcaXgdk42

— Christopher Hayes (@chrislhayes) August 24, 2015
Jeb bush, call your office. http://t.co/9fNafU0OFI — Chris Cillizza (@TheFix) August 24, 2015
Jeb Bush has spent years telling GOP to tone it down on immigration language, rings hollow to hear him go off on "PC" constraints now

— Benjy Sarlin (@BenjySarlin) August 24, 2015
"Actually its about Asians in anchor baby policy" – Jeb Bush, basically — Oliver Willis (@owillis) August 24, 2015
Jeb Bush: I'm only slurring Orientals. They don't vote, right? https://t.co/iLeJ1QlFds

— Kaili Joy Gray (@KailiJoy) August 24, 2015
And the minority outreach continues for the GOP.