Fox Hosts Go Gaga Over Donald Trump's "Remarkable Political Document" On Immigration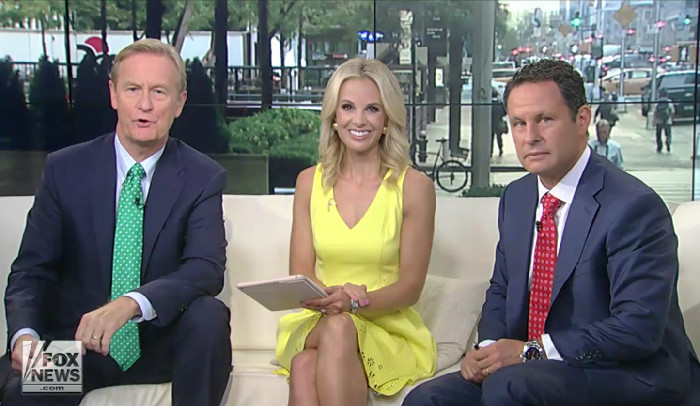 GOP Presidential frontrunner and possible Batman Donald Trump responded to critics who have hit him for not providing specifics on how he'll Make America Great Again ™ by releasing a policy plan regarding immigration over the weekend. As one would expect, it was completely fucking stupid — repeal the 14th Amendment? — but it also gave his fans something to latch onto so they can show that The Donald means business, like, for reals. Anyway, Monday morning, the Trumpster's biggest cheerleaders got on their hyperbolic hobby horses and praised the living daylights out of the policy piece, calling it a "remarkable political document," among other things.
Over the past couple of months, Trump has had no bigger supporters than the trio of mouth-breathing morons that make up the Fox & Friends crew. He's name-called the hosts during campaign stops, pointing out how very great and classy they were. After his little tiff with Fox News regarding Megyn Kelly had come to an end, his first appearance back on Fox was with his good friends on the morning program. Therefore, it shouldn't come as any surprise that after he finally provides some specifics on one of his policy positions these three would go absolutely apeshit over its unbelievable awesomeness.
While co-hosts Brian Kilmeade and Elisabeth Hasselbeck both tossed around quite a bit of praise in regards to the real estate mogul's little manifesto of Latino hate, their colleague Steve Doocy was especially over-the-top in commending his idol for his forward-thinking leadership. After Hasselbeck gave a rundown of the plan and pointed out why she thought it was very, very, VERY magnificent and luxurious, Doocy doubled down on the effusive praise.
"Absolutely. So for the candidate who had been — you know, the critics have said, you know, he's all style, no substance — he's come out with this remarkable political document on immigration!"
Following some more back and forth on The Donald's very smart and good policy piece, Doocy then exclaimed that his everyone should be ecstatic with the plan.
"It's an early Christmas gift to conservatives who have looked at the immigration problem in this country and said can't anybody do anything?"
Hey Doocy, you still have some Trump spooge on your chin. You might want to clean that up. Thanks.
Below is video of the segment, courtesy of Media Matters: