Ted Nugent On Megyn Kelly: I Like To Look At Her While I'm Naked On The Couch Loading My Gun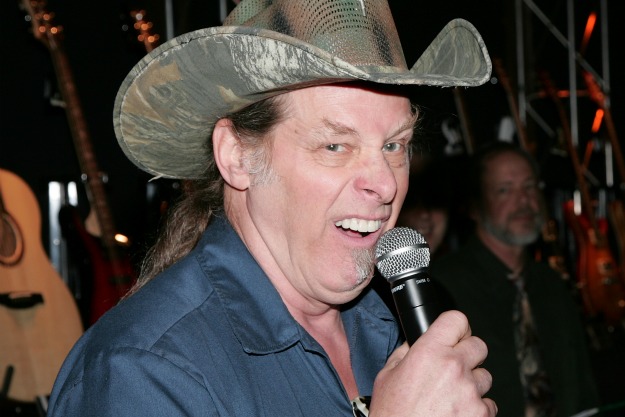 During a radio show appearance on Wednesday, rock and roll has-been and current idol to white conservative ammosexuals Ted Nugent applauded GOP Presidential frontrunner for personally attacking Fox News host Megyn Kelly after the GOP primary debate last week. As pretty much everyone knows by now, Trump got bent out of shape when Kelly brought up his rampant misogyny during the debate. Afterward, The Donald took to Twitter and other news shows to rail against Kelly, retweeting a supporter who called her a bimbo and eventually implying that she was on her period when she asked him the question.
In the aftermath, even though Trump has been attacked from the left and right for his comments, Fox News chief Roger Ailes decided to make peace with the Republican candidate as Fox was inundated emails and calls from Trump supporters saying they would boycott the network if Fox didn't apologize to the real estate mogul. (Some even went so far as to send death threats to Kelly.) Considering that Trump is ratings gold right now for cable news, Ailes relented and Trump appeared on Fox programming on Tuesday.
Despite Fox kowtowing to the reality TV star cum White House hopeful, many Republicans and conservatives have continued to attack the orange-haired celebrity billionaire. However, as one would guess, one right-winger who has his back is none other than a raging sexist and hater of "political correctness" himself, Mr. Ted Nugent. While appearing on WBIX's Keeler in the Morning, The Nuge said that he never really liked Kelly to begin with and that he only ever watched her program just to stare at her while he was "dropping hot brass on his junk."
From the show:
"I'm a big fan of Donald Trump because I believe in bold, aggressive, unapologetic truth. Period. And I'm not a fan of Megyn Kelly, although I often turn on Fox just to look at her. Sometimes when I'm loading my magazines, I like to just look at her. And I usually sit naked on the couch dropping hot brass on my stuff…Man, I am funnier than Richard Pryor's afro when it's on fire!"
Ummm, what the fuck does that last line even mean? Or is it something that will just go over the low-information liberals' heads? Anyway, it seems like Nugent wanted to take Trump's raging misogyny and turn it to 11. Because, as we all know, that is how Motor City Madman rolls!
Later on in the program, Nugent would continue to dump on Kelly while holding up Trump as an American hero. The gist of the exchange is that the super-hot Kelly has become stupid because she's trying to become part of the status quo. Also, Kelly's the bad guy due to the fact that she asked the amazing Trump an obnoxious and meaningless question all so she can appeal to the political correctness crowd.
These are Donald Trump's voters, folks. God bless America!
Below is audio of Nugent's appearance, courtesy of Media Matters: