Fox's Todd Starnes Says Progressives Are Just Like ISIS When It Comes To "Cultural Cleansing"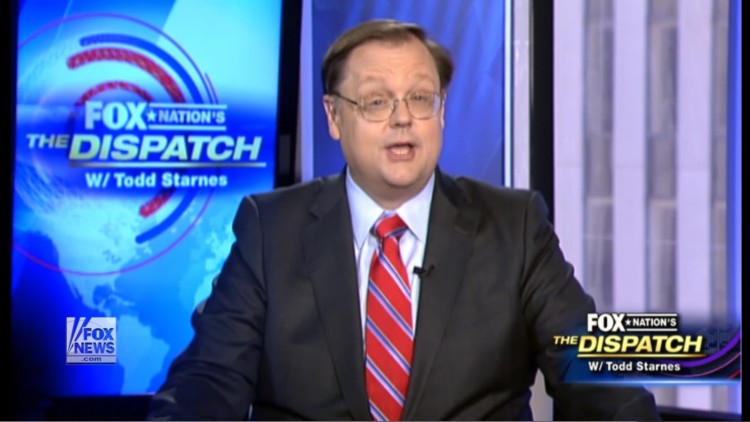 Whenever you need someone to twist a rather mundane local interest story into something that signifies the absolute destruction of god-fearing Christian Americans at the hands of evil liberals, look no further than Fox News contributor Todd Starnes. The self-appointed culture warrior has made a cottage industry of whining about how victimized the Religious Right is in this country and how progressives and atheists are trying to destroy Christianity and traditional American culture. At least a couple of times a week, he will highlight some news story that apparently shows the continued annihilation of innocent conservatives.
On Wednesday, Starnes ranted about a North Carolina lawmaker who is looking into a possible name change for a local fair. Earlier this week, a Fox subsidiary reported that Winston-Salem Councilman James Taylor was looking into whether or not the Dixie Classic Fair should change its name as some of his constituents have said that 'Dixie' is potentially offensive due to its ties to the Confederacy. Obviously, this is continued fallout from the outrage over the use of the Confederate Flag as a symbol of white supremacy. At the same time, Taylor said that if most people he talks to don't want the name of the fair changed, he won't do anything else about it.
From FOX-8's story on the name flap:
Taylor said that some people are "angry" with the name and believes the city should consider changing it. He added that — as a city that is progressive — and is continuing to move forward, they need a name that "everyone can appreciate."
He says his goal is to find a name that doesn't divide the people, but instead one that unites them.
Taylor wanted to stress that he wants "to talk to the people first," and if they don't want to change it they won't change it, saying that he "will do what's best for all the people."
Of course, considering that Starnes feels that the attack on the Confederate flag and the call for it to be banned at government buildings and parks is a direct attack on Southern heritage and culture by the American left, the Fox News commentator latched on to the use of "progressive" by Taylor to make his point that traditional values are being attacked and liberals and progressives are interested in cleansing this nation's culture.
"The fair is just the latest victim of a cultural cleansing of the Southern States by angry liberals wound up tighter than a pair of Daisy Dukes.
They're trying to dig up a dead Confederate general in Memphis. They want to sand blast Robert E. Lee's face off the side of Stone Mountain, Georgia. And Lord only knows what they want to do with Aunt Jemima and Uncle Ben."
You know who else is trying culturually cleanse their society, right? Yup, ISIS!
"If the cultural cleansers succeed in their quest to ban the word Dixie – don't be surprised if they start banning Dixie Cups and Winn Dixie and the Dixie Chicks.
I really hope they don't try to ban Dixie Cups, folks. How else would you be able to drink Dixie Beer?
Of course, American progressives aren't the only folks engaged in cultural cleansing. So is the Islamic State – and they're not whistling Dixie."
Anyway, if you want to see a scared little man who is angry that today's America isn't a perpetually running marathon of Leave It To Beaver, then go ahead and watch the video below, courtesy of Fox News: