Donald Trump Says Women Have A Hard Time Criticizing Him Because He's So Good Looking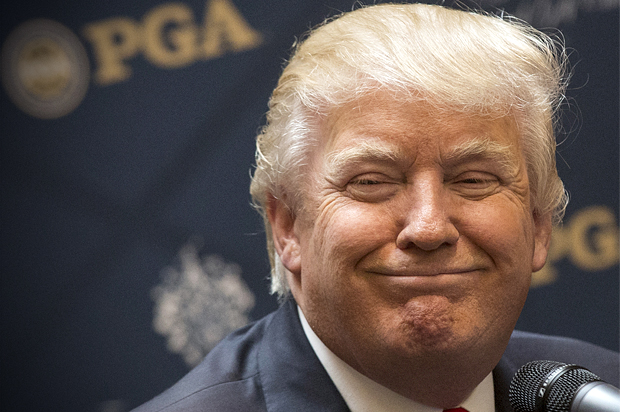 On Sunday morning, GOP Presidential candidate and menstruation expert Donald Trump gave interviews to four of the five major news talks shows to do damage control over his recent comments regarding Fox News anchor Megyn Kelly. (Notably absent from that list — Fox News Sunday.) If you haven't heard by now — not sure how that is possible — Trump ramped up his criticism of Kelly over the questions she asked him at the first GOP primary debate by implying that she was on her period. After saying that on CNN Friday night, Trump was disinvited from a conservative event in Atlanta and has faced a firestorm of outrage and ridicule from all across the political spectrum.
In a phone interview with Meet the Press's Chuck Todd, Trump refused to apologize for his comments or his over-the-top criticism of Kelly. The Donald pointed out that he was not referencing Kelly's menstrual cycle when he told CNN's Don Lemon that she "had blood coming from her…wherever," instead claiming that he meant to say nose or ears but got sidetracked. Furthermore, anyone who actually believed that he was talking about anything else is "sick," hearkening to his earlier statement that only "deviant" people would think that he was talking about menstruation.
Todd, to his credit, wouldn't allow Trump to steamroll him, as he continued to press the real estate magnate over his continued verbal assaults on Kelly. The MTP host told Trump that he was still making "a demonic or animalistic reference" in regards to the Fox personality, which Trump denied. Of course, the Trumpster followed this up by saying that Kelly was "very angry" at him for getting the "loudest applause of the day by far" for saying that Rosie O'Donnell is a fat pig.
This led to Todd highlighting that Trump constantly resorts to personal attacks anytime he is even slightly criticized or feels like he's been treated unfairly. The NBC News mainstay pointed out that Trump has disparaged him in the past and tends to go after others physical appearances when attacking them. Trump claimed that he absolutely doesn't do that. (Are you fucking serious?) After Todd gave a rundown of the Mad Men-esque things he's said about women in the past, Trump responded by saying — I swear I am not making this shit up — that those women who criticized him in the past couldn't bring up his looks because he's so attractive.
"When I'm attacked, I fight back. When I was attacked viciously by those women, of course, it's very hard for them to attack me on looks, because I'm so good looking."
You couldn't make any of this up if you tried.
Going forward, it will be very interesting to see if Trump can continue to garner GOP voter support without the backing of Fox News, as he is apparently going to avoid the network from now on (other than possibly his fawning fans at Fox & Friends) and it seems all but certain that Fox doesn't want him on any other programs.
Below is video of the segment, courtesy of NBC:
Image via Golf Network