Joe Scarborough Goes Out Of His Way To Kiss Chris Christie's Ass During Softball Interview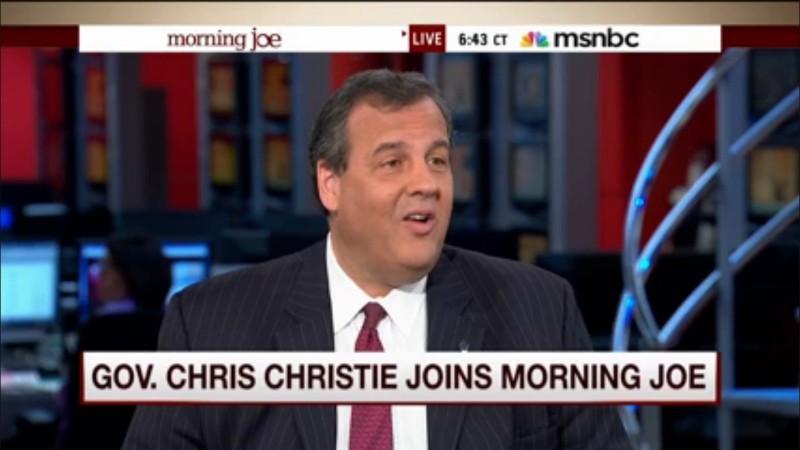 It had been roughly two years, but New Jersey Republican Governor and GOP Presidential candidate Chris Christie finally made his way back to Morning Joe to get his ass fully kissed by longtime buddy and supporter Joe Scarborough. After dealing with the fallout from the Bridgegate scandal, and the subsequent investigations into his administration, Scarborough welcomed the highly unpopular guv onto the show in what seemed like a personal favor and opportunity to give Christie some positive press. I am tempted to label this article NSFW because it the video clip from MSNBC is essentially a 12-minute long blow job.
Prior to Christie making his way on to the set, Joe helped set him up as perhaps the only GOP candidate that can offer optimism and tout America's greatness in a field full of whiners and complainers. In an obviously rehearsed tirade, JoeScar ripped into the current Republican Presidential hopefuls for portraying this country in a negative light rather than conveying a patriotic message of hope and opportunity in America. Scarborough bemoaned the lack of a Ronald Reagan and his sunny optimism. The whole thing sounded like a stump speech for his own candidacy. However, in hindsight, it appears that it was an attempt to help his boy out and make Christie appear to be a more positive-minded candidate.
Below is video of that segment, courtesy of MSNBC:
After Joe's over-the-top look at me rant, Christie ambled on, and Scarborough went right to work slobbing his knob, with a little help from former Republican strategist Nicolle Wallace. While Joe pretended he had always been fair and blunt with Christie, it was obvious from the jump that Scarborough was tossing his friend a bone with the softball interview. Despite MSNBC spending months covering the Bridgegate scandal that has haunted Christie's latest term as NJ Governor, Joe made it appear that the controversies that have plagued Christie over the past two years were absolutely nothing and they wouldn't have any relevance during the GOP primaries. (Yeah, OK.)
In general, this was nothing more than a campaign infomercial for Christie. Joe let Christie shrug away his god-awful approval numbers in New Jersey, where only 36% of voters view him in a favorable light. According to Christie, it is just a combination of all the Bridgegate coverage combined with NJ residents just upset that he is going to leave the state to be President. While co-host Willie Geist gave Christie a little bit of pushback on that explanation, Scarborough just lapped it up, agreeing with the kinder, gentler Chris Christie.
Christie also took fellow GOP candidate Rand Paul to task for his stance on the Patriot Act and NSA surveillance. In Christie's view, if America gets attacked by terrorists, it will all be Paul's fault and he should be the one standing in front of Congress, rather than anyone from the CIA or FBI. It was a transparently blatant attempt by Christie to carve out a niche and perhaps find a distinct enemy in the GOP field to run directly against. All the while, Morning Joe is grinning and winking at Christie, just overjoyed that he gets to reignite his love affair with the loudmouthed bully.
And that is another thing that stood out in the segment. Joe spent a lot of time trying to help Christie rehabilitate his image from that of the schoolyard bully to that of a "better person." Numerous times Christie reflected on the past could of years, saying that he's learned a lot and he is not only wiser, but has changed for the better. K.
Below is video of the full interview, courtesy of MSNBC: