Twitter Reacts Approvingly To Jon Stewart's Moving Monologue On Charleston Shooting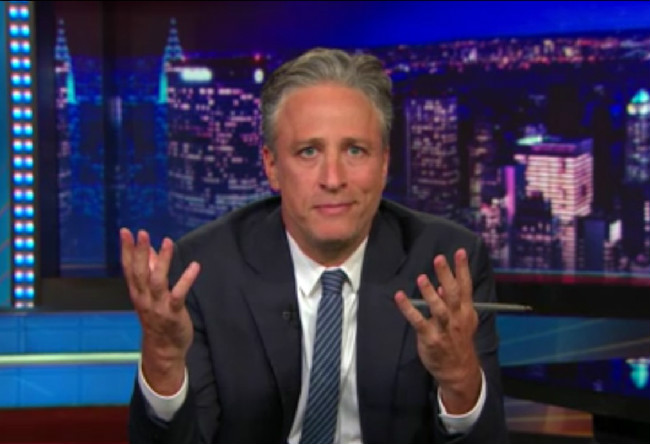 As most everyone is pretty much aware by now, The Daily Show host Jon Stewart responded to news of the murder of nine black church patrons in South Carolina with a somber and heartfelt monologue on his program Thursday night. Heading into the final weeks hosting the show, Stewart decided to forego delivering any jokes and instead spoke plainly and passionately about the racially motivated mass shooting committed by 21-year-old white male Dylann Storm Roof. As he pointed out, we've been down this road many times recently and, as a country, we inevitably won't do jack shit about it.
Stewart labeled Roof's actions a terrorist attack and noted that al Qaeda and ISIS cannot even come close to inflicting the type of damage that we here in America do to ourselves. Thankfully for Stewart, he had the perfect guest scheduled for his show, Nobel Peace Prize winner Malala Yousafzai, so he didn't have to try to fake his way through a half-hearted conversation with a celebrity promoting their latest project. Instead, he could discuss tragedy, grief and the effects of violence on a society with someone who could provide a perfect perspective.
Below is video of Stewart's speech, courtesy of Comedy Central:
Immediately after Thursday night's broadcast and throughout the morning of Friday, Stewart's remarks was the top trending item on Twitter. And the general consensus among those reacting was one of agreement and approval of his impassioned and brutally honest comments. Below are some of the more noteworthy examples:
Be clear, we don't champion Jon Stewart for saying the right thing when we need it. We champion him because he does so CONSISTENTLY!

— Becky LO'Shea (@d0ntcallmed0ll) June 19, 2015
Can't we all just take a vote or something and force Jon Stewart to keep doing the Daily Show? http://t.co/7izn10mvx4 I think we need him.

— Claire Suddath (@clairesuddath) June 19, 2015
Jon Stewart's powerful intro to last night's @TheDailyShow is why he has a strong claim to the title of The Greatest Living American.

— Mehdi Hasan (@mehdirhasan) June 19, 2015
Jon Stewart has outgrown his comic/satiric persona like a turtle outgrowing a painted shell. https://t.co/HzIzGikjez

— Joyce Carol Oates (@JoyceCarolOates) June 19, 2015
Eloquence is a word that has a name, and that name is Jon Stewart. I still remember his speech on 9/11. You will be missed.

— SecuriTay (@SwiftOnSecurity) June 19, 2015
Jon Stewart the realest Caucasian out there

— Karl Alone (@MikeHeadlyy) June 19, 2015
As usual, Jon Stewart is the only voice of reason in the news media. "But he's a comedian." And yet the "real" news outlets are the joke.

— Joe Casabona (@jcasabona) June 19, 2015
Jon Stewart tells no lies. He will be missed. http://t.co/Di4ucRWJPZ

— Awkward Black Girl (@awkwardblkgrl) June 19, 2015
Jon Stewart is awesome and I love when he speaks from the heart. Comedians really are the best. Sorry musicians.

— John Roberts (@JohnRobertsFun) June 19, 2015
Just to reiterate, Jon Stewart will only be host of The Daily Show for five more weeks. This is the kind of stuff we will be missing once he hangs them up.