Obama White House Photographer Explains Instagram Digs at Trump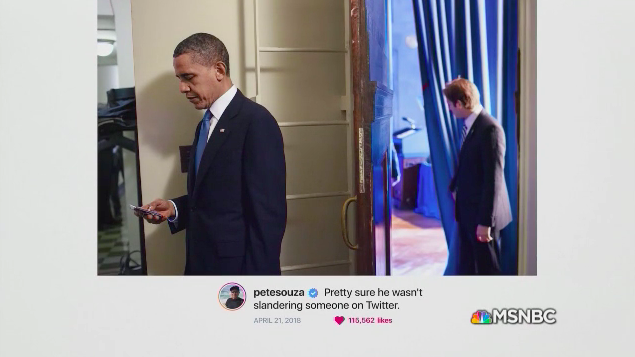 The White House photographer for President Obama explained in an MSNBC special the motivation behind his popular Instagram posts in which he takes aim at Obama's successor.
In "The Way I See It," Pete Souza says he basically didn't have a choice whether or not to get involved publicly as he began to see the Trump administration unfold.
"Since leaving The White House, I made this conscious decision that I couldn't not say anything. I couldn't not speak out. It was all about the dignity of the Office of the Presidency. Especially for young people, I didn't want them to think that this is the way that a president is supposed to behave," Souza explained.
"When I first started out, I was trying to be humorous in my comments," he said. But it didn't take long for him to realize that there was a point at which Trump had "gone way too far."
"The photographs that I post on Instagram now, and the words that I write, I think speak for themselves. And I think I have gotten more and more out there in terms of making it pretty damn clear how I feel."
Watch the video above, via MSNBC.