Mississippi Gov. Admits Wearing Masks Is Beneficial, But Doesn't Believe In Issuing Statewide Mandate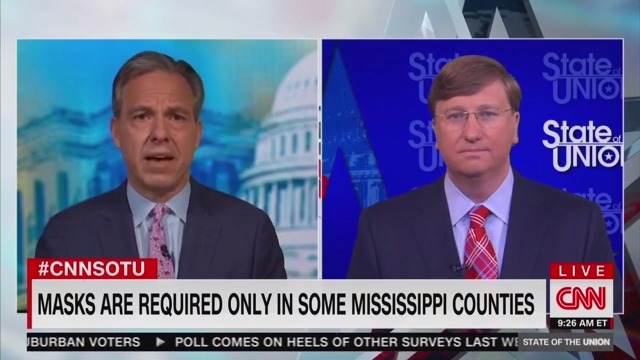 Gov. Tate Reeves (R-MS) on Sunday explained why his state does not have in place a mask mandate, saying he doesn't believe it would be "the best way to save lives."
Reeves, appearing on CNN State of the Union, was pressed by host Jake Tapper about how neighboring states and even some Mississippi counties currently require the use of masks.
"I've heard from business owners who've said that politicians not imposing state mandates put them in a tough spot, and wish that politicians would do the brave thing as other governors [have done]," Tapper said. "If it saves lives, why not do it?"

"If I believed [a statewide mask mandate] was the best way to save lives in my state, I would have done it a long time ago," Reeves responded. "But yes, I do believe that wearing masks and maintaining social distancing is a strategy that is worth implementing."
Reeves said he preferred the more "surgical" approach of having individual counties issue guidance, even though Tapper pointed out that people do travel between counties.
Reeves also blamed "mixed messages" from health organizations several months ago for making the institution of a mask policy a "complicated process."
Watch the video above, via CNN.