Chris Wallace Says Cognitive Test Trump Boasted About 'Is Not the Hardest Test'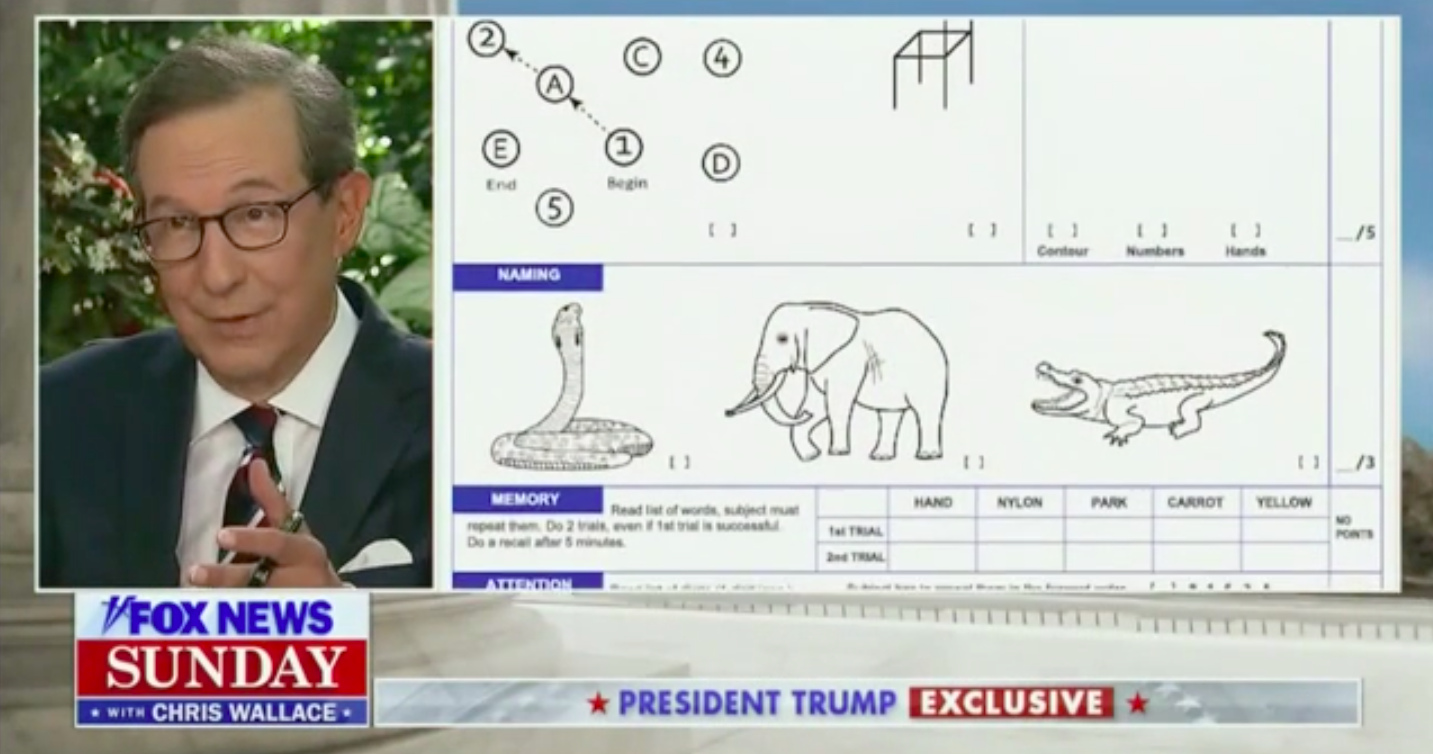 President Trump and Fox News' Chris Wallace got into an odd exchange over mental health during an interview that aired Sunday.
Trump began by attacking presumptive Democratic presidential nominee Joe Biden, saying he "can't put two sentences together." This prompted Wallace to ask Trump directly whether the former vice president is "senile."
"I don't want to say that. I'd say he's not competent to be president," Trump responded. "To be president, you have to be sharp and tough and so many other things. He doesn't even come out of his basement…Joe doesn't even know he's alive, okay? He doesn't even know he's alive."
Wallace then mentioned a recent Fox poll indicating that Biden holds an edge among voters when it comes to who they think is more mentally fit for the job. Trump then proceeded to boast about a cognitive test he took, which Wallace himself apparently took as well:
Wallace: Incidentally, I took the test too when I heard that you passed it.

Trump: Yeah, how did you do?

Wallace: Well, it's not the hardest test. They have a picture and it says 'what's that' and it's an elephant.

Trump: No no no…You see, that's all misrepresentation.

Wallace: Well, that's what it was on the web.

Trump: It's all misrepresentation. Because, yes, the first few questions are easy, but I'll bet you couldn't even answer the last five questions. I'll bet you couldn't, they get very hard, the last five questions.

Wallace: Well, one of them was count back from 100 by seven.

Trump: Let me tell you…

Wallace: Ninety-three.

Trump: You couldn't answer many of the questions. I'll get you the test, I'd like to give it. I'll guarantee you that Joe Biden could not answer those questions.
Watch the video above, via Fox News.