Trump Campaign Adviser Says the Race Is 'a Tie or a Toss-up,' Despite Trump's Steady Decline in Polls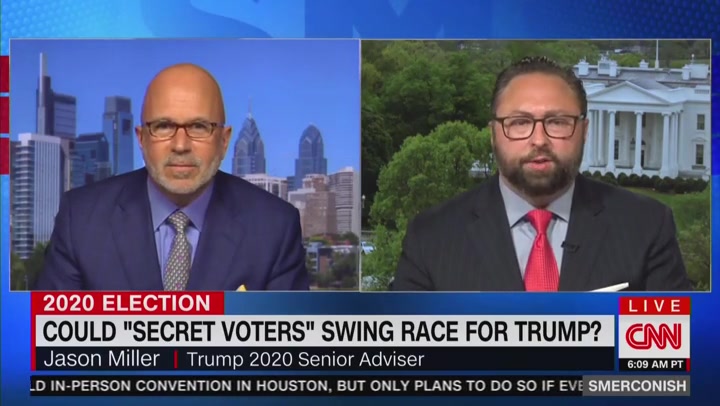 A senior adviser for the Trump campaign went on CNN Saturday morning and quickly rifled through a fair amount of statistics in an attempt to put a positive spin on the president's lackluster polling numbers.
Jason Miller insisted that the race is much closer than anyone thinks right now, telling Michael Smerconish that it's "either a tie or a toss-up, no matter how you look at it."
"President Trump is well positioned to win this race," Miller said, citing a combination factors like an underrepresentation of the Republican electorate, a higher enthusiasm factor among Trump voters, and polls' margins of error. "He's either leading or tied for every state we need to win to get to 270."

"There's nothing out there that says that the president is on the right track," Smerconish shot back. "If there were, [former campaign manager] Brad Parscale wouldn't have been demoted, right?"
But Miller justified the staffing change as simply "putting the key players on our team in the position to win."
"It's like moving our point guard to center and our center to point guard, so we streamlined the team," Miller said, fumbling a basketball analogy that in reality would make the team worse.
The most recent polling averages compiled by FiveThirtyEight show Biden leading Trump nationally by nine percentage points. New CBS News/YouGov polls from last week show Trump tied with his Democratic challenger in Arizona, which he won by four points in 2016, down by six points in Florida, which he also won four years ago, and up by only one point in Texas — well within the margin of error.
Watch the video above, via CNN.