McCaskill Warns GOP: 'Anyone Who Goes After' Vindman 'Is In Trouble'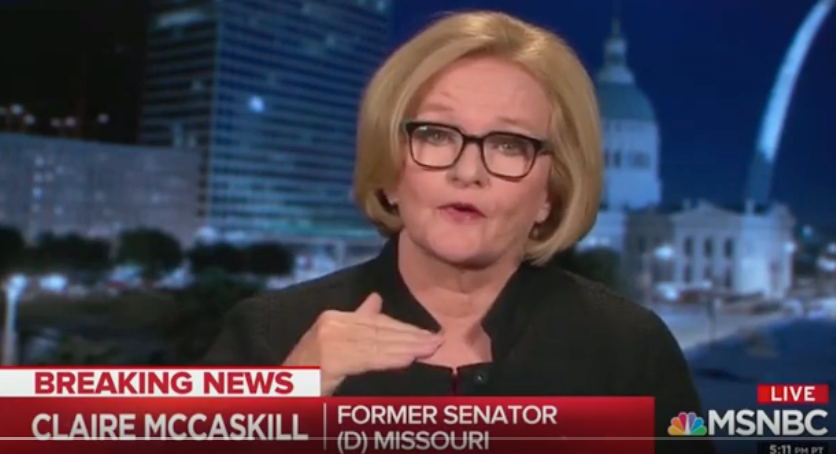 Prior to a White House national security official's testimony in the House impeachment inquiry on Tuesday, President Trump and his staunchest allies decided to
target the integrity
of the Iraq War veteran.
Appearing on MSNBC's
All In
, former Sen. Claire McCaskill warned Republicans of adopting such a strategy.
"When
Fox
went after
this lieutenant colonel, I think that was a moment where a bunch of them … the hairs on the back of their neck began to stand up," McCaskill said.
"'We better we careful here, this could come back and really hurt us,'" she added, putting herself in their shoes.
In fact, some Republicans have actually made the sensible realization that
denigrating
Lt. Col. Alexander Vindman,
the first witness in the impeachment inquiry to have listened in on the July 25th call between Trump and the president of Ukraine, may not be the wisest course of action.
McCaskill predicted that Republicans up for reelection in 2020 in battleground states would have a particularly tough time navigating this issue, especially since procedural arguments can run thin.
"I think there are probably a lot of people tugging on Mitch [McConnell]'s coat right now and saying, 'Can't we find a procedural vote instead of a substantive vote we have to make?'" she said.
Congressional Republicans' contention that Democrats are somehow engaging in a secretive anti-Trump plot by holding witness testimony in private, McCaskill added, is simply "phony."
Watch the video above, via MSNBC.