President Trump Bringing Impeachment Freak Show to World Series Game 5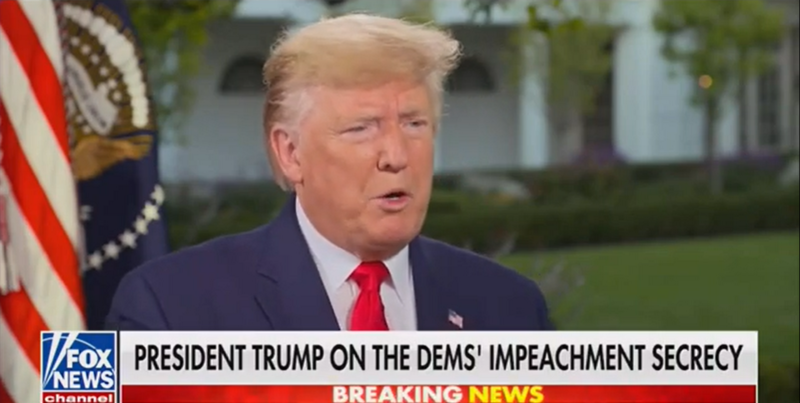 The Houston Astros solid pitching cooled the hot bats of the Washington Nationals last night, helping the Texas team finally put one in the "W" column. The Nats still lead the 2019 Major League Baseball World Series two games to one, with Game 4 broadcasting this evening, and Game 5 set for tomorrow night.
The first three matchups of this year's Fall Classic were notable for headlines generated both on and off the field. Last night's display of virtuosity from the Astros bullpen was overshadowed by the club's extended public display of tone-deaf ethics and PR ineptitude, which culminated in the firing of Assistant General Manager Brandon Taubman earlier this week.
On Thursday, after several days of building controversy pertaining to Taubman's post-NLCS taunting of female reporters including Sports Illustrated's Stephanie Apstein over noted domestic abuser and relief pitcher Roberto Osuna, the organization finally decided to dump the misogynist albatross hanging from its neck. However, the resolution came far too late to counter public disgust with Houston's initial defense of the frat guy, and smears of a professional journalist. From Gabe Fernandez of Deadspin:
"It would be great if this [Taubman's firing] was a case of the Astros committing to an organizational overhaul in response to not just what Taubman did, but also what others around the ballclub did to protect this employee. But considering how much blowback had to occur before anything of substance happened, the Astros' delay in acting responsibly should be remembered at least as much as the fact that they eventually did."
As Major League Baseball attempts to turn the page on this ugly, distracting episode and get back to the action on the field, the sport will have a new controversy to contend with this weekend. This one comes in the living, (heavy) breathing form of the 45th President of the United States, Donald Trump.
The embattled POTUS plans to attend Sunday's Game 5 at Nationals Park, bringing the sideshow of his imploding administration to America's Favorite Pastime. Yet in a rare display of self-awareness, Trump appears to understand that baseball fans will deprive him of a hero's welcome. From the USA Today's Gabe Lacques:
"This 115th World Series, already roiled by an ugly and protracted incident…will at least be spared a potential public skewering of a sitting President suffering through an impeachment inquiry.
Commissioner Rob Manfred said before Friday night's Game 3 that he had a conversation with President Trump regarding his attending a potential Game 5 on Sunday, and that the President opted out of a potential first pitch or other public appearance 'in order to make the fan experience as positive as possible.'"
Since we know the Donald gives less than half a shit about the experiences of everyday Americans, we can assume he'd like to avoid the fate of Chris Christie. At a Chicago Cubs vs. Milwaukee Brewers game in July 2017, the former Governor of New Jersey and onetime Trump acolyte got all he wanted from fans who jeered him as a "hypocrite" (this still gives me the LOLs).
Given the endless, howling torrents of controversy blowing through the Trump administration, including an active impeachment investigation unfolding in the House of Representatives, one might wonder why 45 finds it necessary to insert himself into the World Series at all. This report from the Associated Press makes the laudably straight-faced claim that the orange one's appearance at Nationals Park "will continue a rich tradition of intertwining the American presidency with America's pastime." The article also mentions that George W. Bush wore a bulletproof vest to a game at Yankee Stadium in 2001, but Trump is concerned that the protective device might make him "look too heavy." The jokes…they write themselves.
Fans with tickets to Sunday night's game will undergo extra security measures, and face superlative demands upon their patience and attention. If the Nationals prevail tonight, the team will be just one win away from its first World Series championship. The presence of a megalomaniacal, tangerine-colored buffoon desperate for good press threatens to overrun a bi-partisan celebration for a Washington D.C. that has suffered extensive brand damage since January 2017.