Newt Gingrich Claims Famous Watergate Whistleblower Mark Felt Wasn't A Whistleblower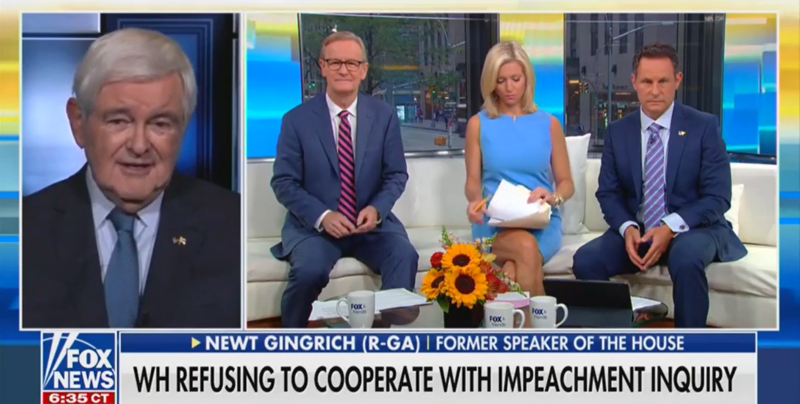 Former Speaker of the House Newt Gingrich made the extraordinary claim on Wednesday that the most famous whistleblower in U.S. was not, in fact, a whistleblower. The Republican told Fox & Friends that Mark Felt, the FBI agent who provided crucial information that led to the resignation of President Richard Nixon, was not a whistleblower.
Gingrich was criticizing House Speaker Nancy Pelosi and Democrats' attempts to protect anonymous whistleblowers who are key figures in the unfolding Ukraine scandal.
"I agree with Senator [Ben] Sasse who said it's a clown show," Gingrich said. "You can't have a whistleblower in secret take on the President of the United States. That violates everything since the English Civil War in the middle of the 17th century when they outlawed star chambers."
"Didn't Mark Felt do that in Watergate?" co-host Brian Kilmeade asked.
"Well, no. That was because he was hiding in secret. He wasn't a whistleblower. He was a guy who hid," Gingrich said, inaccurately.
"He was a source," co-host Steve Doocy said.
"He was a source but he wasn't a whistleblower. Everybody in Watergate appeared in the open. Both sides got to cross-examine them," Gingrich claimed.
Felt was an anonymous source who provided critical information to journalists Bob Woodward and Carl Bernstein. He used the code name 'Deep Throat' and his real identity wasn't revealed until 30 years after the events of Watergate. Felt was 91 when the truth came out.
Watch the video above, via Fox News.